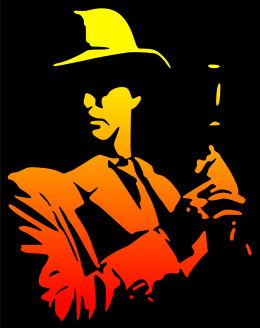 Everybody who's anybody know that Kickstarter is all the rage, and crowdfunded video games are really hitting off, sure there's some nah-sayers against the new trend, but if the bigguns can successfully arrange the money required for their next title, well so should the beloved and obscure cult games of yesteryear!
That's right, its well into May which means only one thing! Tex Murphy is clawing his way through limbo to get back onto your computer screen in full motion glory; the kickstarter campaign 'Tex Murphy - Project Fedora' is now live, and has over 45% of its required $450,000 fundraising, so the question is, do you want to see the return of the award-winning detective/sci-fi/adventure game series?
Fans of the series have been quietly waiting for more than a decade for the return of the detective, and Big Finish Games are the developers that are hoping to deliver, on board are the original creative team including creater/designer/Tex Murphy himself Chris Jones, designer/writer Aaron Conners and director Adrian Carr.
The Tex Murphy series is one best described as cult, and its pioneering technologies for Full Motion Video in the adventure game genre was a marmite subject for some, but with such prolific actors staring in the franchise such as James Earl Jones, Kevin McCarthy and Michael York, you can't knock the now unpopular methods.
With such a rich series of games already existing, the tiered rewards are pretty fantastic, ranging from copies of the original games, a collector's edition of Project Fedora, shot glasses, fedora's, answer machine messages, signed posters and even the original movie that the game began from, you can give them as little as $5 and as much as $10,000, so what are you waiting for?
The script is already completed for the game, and if the goal is met by June 15th development will begin immediately, so get donating!