It may be 12 years since his last game, but Eric Chahi the legendary designer behind the amazing Another World (known to Americans as Out of this World) is back to make another game with the help of Ubisoft. Codenamed Project Dust, the idea is to give players an entirely dynamic world, where you are able to manipulate the ground, water, vegetation, lava and much more, with all of these properly simulated, and not faked.
Project Dust has been described by Chahi as the 'spiritual heir' to Populous, users will play with powers to manipulate the world around them that suffers natural disasters to the extreme, with the goal of finding a safe place for their people, however he has also stated Rez as a big influence for it's acknowledgement of music as an important part of the game, and other forms of art such as the painter Zdzislaw Beksinski, and the powerful film Koyaanisqatsi.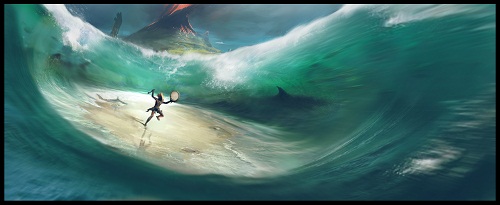 They want Project Dust to be the most spectacular XBLA/PSN title, by giving players a deep experience in a believable world, and live an epic human adventure. It will be available on Playstation Network, Xbox Live Arcade and downloadable for PC around Spring 2011, they chose to make it a downloadable title as opposed to retail for the freedom that the platforms evoke, and with the reasoning that Project Dust will find a good niche on them. Whether Chahi still has the same designing majesty will be proved in good time, regards we are very excited and interested by the news.