Gone are the true heights of the traditional sports management game, with the likes of LMA or Eastside Hockey Simulator no longer seeing the light of day more often than not you'll find enhanced career modes spliced into the average sports title. Unfortunately when it comes to the world of professional cycling there aren't many games focused on the sport, and only one developer has countlessly proven that they can step up to the task.
For the last 7 years Paris based Cyanide Studios have been dedicated to bringing fans the cycling game that they are looking for in the Pro Cycling series, so we decided to have a look into the brilliantly niche series to see if the newest; Pro Cycling Manager 2012 is up to speed.
Whilst exciting in solo, Pro Cycling Manager 2012 is the first in the series to offer a unique multiplayer system! You'll face players from all around the globe in a persistent world complete with a competition schedule. With the new card system you'll be able to create your dream-team, and pedal hard to climb the online leaderboards!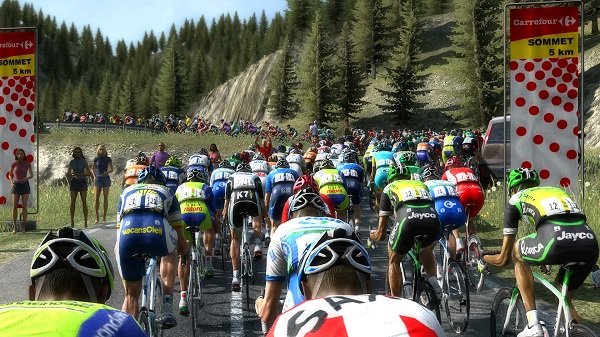 Now you can play against others in simple track races, or the bulky Armada mode which gives you a set of 8 randomly picked rider cards from the full database, and 2 equipment cards, you can use these to play stages against other players online, gain notoriety and make your way up the ranks. In order to improve your team you'll need to obtain new playing cards, these can be unlocked through winning races, or if you so wish; micro transactions that allow you to buy more cards. The card system is a unique and intriguing idea to ensure spontaneity in online play, however unfortunately it does mean that those with money to burn will be able to ensure that they buy the best cards and trounce every competitor.
Unfortunately players of the previous games of the series will be devastated to hear that Cyanide have scrapped the LAN capabilities that the series has stuck by, and instead they have opted solely for online play with their new Armada mode, which whilst a fantastic concept, does not really make up for the lack of being unable to play against your mates across the room.
However not every cyclist likes to drive in a pack, and it can be a bit of a particular hobby, so there are a selection of single player modes available including the obvious career mode, however players that want to sink their teeth into the action without going through the lengthy career of a team there is the classic and stage races across a wide range of competitions that allow players to experience the 3D races that don't specifically require the user's full participation in the race, but permit you to manage and regulate your cyclists' performance.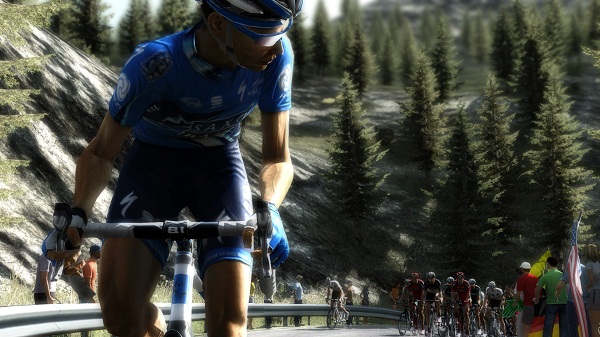 If you do like things a little more hands on then there is the rather odd track mode that lets you pick a velodrome of your choice from a small selection, and race almost track and field style against a couple of other riders on a small track for direct and fast cycling action in amongst a strongly simulated game, and to be fair, it's pretty fun.
The most involving part of the management game is of course found in career mode where you can take control of a team of your choice and train them up to greatness by pencilling them in for competitions, sending them off for training, upgrading their equipment, keeping sponsors happy and buying in new squad members.
Whilst there are a few team names that have been altered for obvious licensing issues, Pro Cycling Manager 2012 features 81 new teams in contrast to last years roster, and of course if you wish you can create your own teams, or download teams created by your mates with the database editor, so watch out for team Gamercast, because Paul gives a mean attack!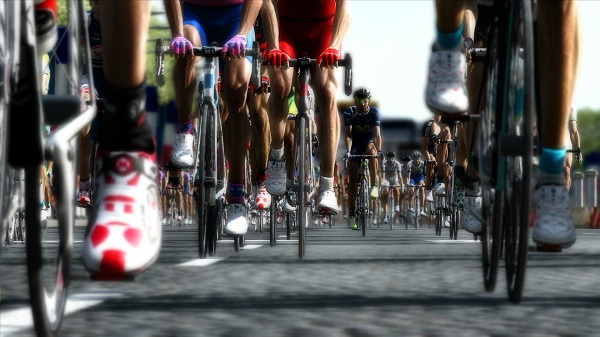 Like all good sports based career modes your first point of communication with the wide world of pro cycling is your email box, via emails you'll be informed if your team members take ill, upcoming competitions, and even whose signing on who from your competitors. The email system ensures that even the newest of players will not miss a trick, and they act as a very subtle tutorial to introducing players to the rather daunting menu system.
Everyone has to start small, and unless you're picking a team like RNT, or as close as you can get to them you'll have steady competition and a long way to go, so in order to take your team to greatness you'll have to sign them up for all the best competitions, shape them and let them grow, whilst of course keeping a scout out for the new and bright riders hitting the stages, no one will last forever.
Of course your team won't be going anywhere unless you enrol them into competitions, whilst you won't be taking part in the full course each is made up of several stages. Each event can be played in three different ways, and for the true manager you can whisk each by with a quick simulation that plays the odds and uses the numbers to quantify how each cyclist proceeds through the stage, or if you like to know a little more about what is going on there is the detailed simulation that keeps you informed of any mishaps or occurances on the track, however if you prefer a more hands on approach there is 3D race that allows you to go between each of your racers tweaking their performance for optimum results.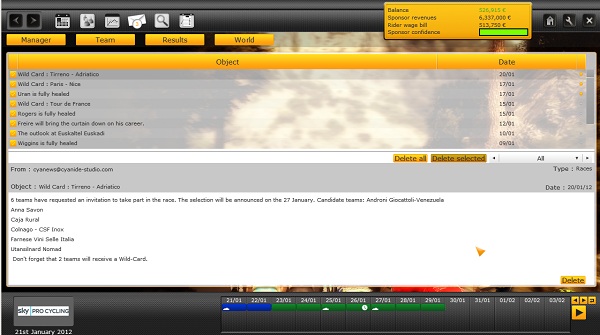 Now unfortunately the menu screens and UI that make up about 50% of the game are not particularly appealing or streamlined which is quite awkward and even though familiar with the series will have a bit of trouble picking up on everythings location, so if you are new to the game expect an absolute nightmare figuring out the inner workings of the management aspect. However despite the menus, Pro Cycling Manager 2012 is without a doubt the most beautiful cycling game on the market, and if you have a good PC, the 3D races are absolutely breathtaking.
Now I'm no expert on the tactics of a cycling team, but what Cyanide have produced is a comprehensive and meticulous professional cycling management game, thanks to the new scheduler overseeing your squad could be no better once you've figured out your way around the menu system, it is just a shame that there is a lack of LAN play, and how the exploitable online mode of Armada means that a small fry cannot cut it in a big pond of users with money to burn.

Pro Cycling Manager 2012 is available now from all good retailers and digital distribution sites such as Steam or the Focus Shop for the RRP of £29.99.