If you're like me then your childhood was filled with fun, pokemon, and more pokemon, in fact you may have even at one time played the Pokemon Trading Card Game. Well you might be interested to know that people still play it!
Now onto their fifth generation of cards, the Pokemon Trading Card Game has expanded to the interweb, and its online counterpart is now in open beta stages ready for you to learn the game, practice and play with others online across the world for no cost, it even features a deck building wizard to help you get started straight away.
There is a catch however, because the newest expansion of the trading cards; Black & White Emerging Powers feature in-pack codes in its theme decks and booster packs that can unlock virtual cards for the Online Pokemon TCG.
Players do receive a complementary deck when they join up, and can get up to three decks at no additional cost to mix and match and create their own favourite deck without having to purchase cards straight away, however it won't be long before you are bored of the same deck configuration.
Now those of you that fondly remember trading cards in the playground, it's also possible online, and players can trade directly with their friends online, or offer public trades for all. Whilst this online version may not carry the thrill of physical cards, we've given it a go, and it's actually pretty good.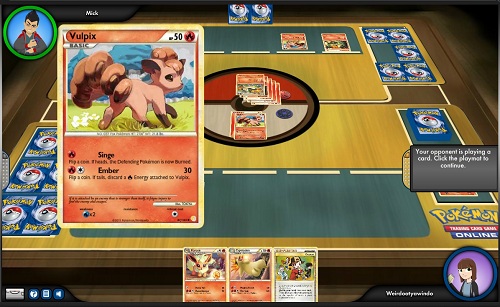 So sign up and give it a go, it won't cost you anything until you get addicted to collecting the cards and your forced to go buy more from WHSmith because your deck just isn't beating anyone anymore.