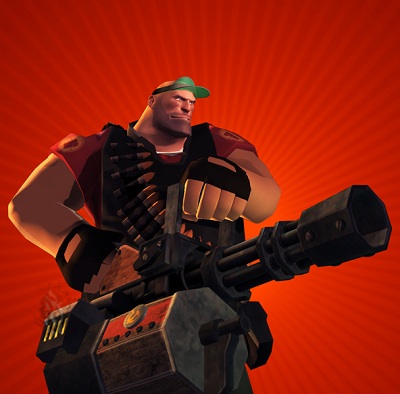 Telltale Games' strangest title to date; Poker Night at the Inventory has been pinned down to a release this month and many exclusive items have been named for unlocking in possibly the most imaginative Texas Hold'em in video game history.
Bringing together Team Fortress 2's Heavy, Penny Arcade's Tycho, Homestar Runner's undisputed champion Strong Bad, and the loveable Max from Telltale's strongest game series Sam and Max. Poker Night at the Inventory will pit together the 4 iconic characters in the most raucous smack-talking game of poker unlike any you've played before.
If you pre-order Poker Night at the Inventory you will receive a Poker Visor for the Heavy in Team Fortress 2. However when the game is released you will also be able to unlock extra Team Fortress 2 items that other characters will buy into the table with, then all you'll have to do is win the round, and the items are yours.
With the 'Iron Curtain' weapon for use by the Heavy, Max's Lugermorph for use by the Scout and Engineer, the Freelance Police badge for use by any player, Tycho's wrist watch for the Spy and some stylish 'Dangeresque' sunglasses for the Demoman, you be slaughtering in style with these catchy new unlockables.
Poker Night at the Inventory is testament to just how huge Team Fortress 2 is, and Telltale's partnership with Valve appears to be a match made in heaven. Poker Night at the Inventory will be available for PC and Mac this month for the low price of $4.95, so what are you waiting for? Pre-order it now and wear your poker visor in style, cause everyone knows the Heavy is the best class!