Its the news we've all been waiting for! Yes the zombies are now on the DS in Europe and Australia, they may not be coming to us in 3D, but you will be able to download them from DsiWare, or purchase them via retail if you prefer your games with a bit of a physical presence.
PopCap Games, the worldwide leader in casual games have today marked the release of the epic Plants vs. Zombies for the Nintendo DS and Nintendo DsiWare, which has been expertly adapted for the handheld, and will feature all of the engaging gameplay that the PC had, including Adventure, Survival and Puzzle modes with the addition of multiplayer, and four exclusive mini-games.
"Plants vs. Zombies is already a fan favorite on PC, iPhone, iPad, and Xbox, and with this latest incarnation, we're bringing something special to Nintendo DS enthusiasts that'll keep players equally enthralled," said Ed Allard, head of worldwide studios at PopCap.  "Four modes of dual-screen play, multiplayer action, four all-new mini-games, and 14 achievements offer a great combination of original gameplay and unique features that makes the backyard battle for brains fresh and fun." 
Specifically tuned for dual-screen gameplay and multiplayer action via the ad-hoc wireless network in Versus Mode, this Plants vs. Zombies is not going to be a disappointing port. In fact, there is no better game to spend your train ride playing... just don't forget to disembark at your stop.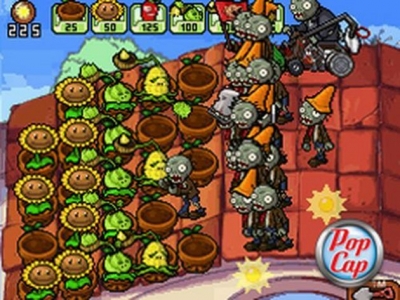 Plants vs. Zombies is available now for the Nintendo DS for the SRP of £24.99, and via DsiWare for 800 points, its the perfect game for your sunny weekend, as you thwart the zombie hoard with your impressive solar power.