Yes, much to some disgruntled opinion, there is indeed a simulator for almost everything these days, whether you want to try out being a bus driver, or a road crew worker, there's a game available... except for if your life-long dream is to become a billionaire in the oil business. Well if it is on your list of goals to achieve, you can see if you are really cut out for running and managing an oil rig with Oil Platform Simulator in a burst of new simulators from those folks at Excalibur Publishing.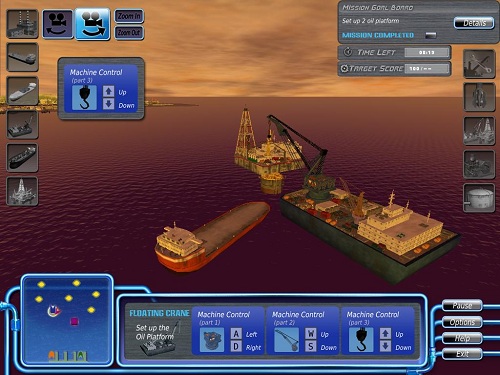 Working on an oil rig is hard work, which is good, because in Oil Platform Simulator you'll be in charge of operations, so no messy hands. With a wide range of missions you will need to locate drilling sites, use heavy cargo ships to transport the components of the platform, and eventually, assemble it!
That's the easy part out of the way however, as you will be responsible for ensuring the smooth flow of oil from the platform to the refinery, and manage a fleet of super tankers to distribute your oil around the world. Of course, no one gets rich on a few drops of oil, and in this sim it is no different, in maintaining an oil quota through smooth running operations you will face breakdowns of equipment, and maintaining your drilling heads and pumps is on the high priority list.
If you wish to maintain a profit against your competitors there is a multitude of upgradeable components that will modernise your drilling enterprise with the latest technology, so it's up to you to carefully balance your expenditure and income.
Promising an extensive amount of tutorials, Oil Platform Simulator will make even the biggest newcomer the oil mogul that they always wanted to be, and will be available November 4th for Windows PC in all good retailers.