Ahead of the release of the highly anticipated sequel No More Heroes 2: Desperate Struggle, Bedtimeflirt.com have teamed up to produce a line of sexy lingerie directly inspired by characters of No More Heroes 2: Desperate Struggle in the form of Sylvia, Shinobu and Naomi, each costume is perhaps not suitable for cosplaying, but an interesting concept to promote the game.
You can check out the range on their website, and they are available now, in sizes small to large, unfortunately they are only supplying the underwear, not the wigs, overcoat, sword or sunglasses, so you'll have to find those yourselves.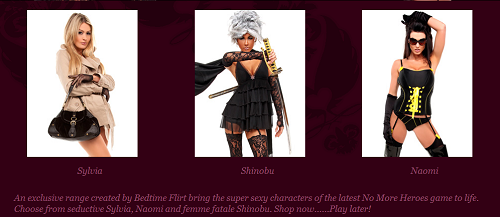 The lingerie itself is your standard Ann Summers/Agent Provocateur styling, not particularly classy, but quite cute, so if you are at all interested, we will not judge you, you can check the range out here.