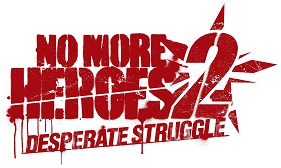 Since the sequel was announced to the amazingly unique No More Heroes, Gamercast have been waiting, now the wonderful people at Rising Star Games have confirmed that the highly anticipated No More Heroes 2: Desperate Struggle will be released throughout Europe on May 28th 2010!
Travis Touchdown; our unlikely hero returns three years after walking away from being the top assassin in the United Assassins Assocation (UAA), to avenge the murder of his best friend, Travis must now kill his way up the ranks of a huge 51 assassins to once again make it to the top of the UAA league table. Who knows what crazy deranged assassin's lie in wait this time round as we are promised deadlier bosses which can be tackled with any of the six additional weapons, alongside 13 new wrestling moves, and Tiger Metamorphosis.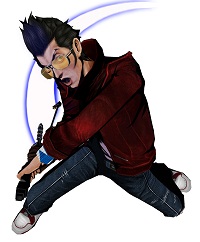 You will also have two new playable character's at your fingertips; Henry, Travis' twin brother, and Shinobu, Travis' protégé. Along with new 8-bit arcade-style mini-games that will crop up in Travis's side jobs (one of the most entertaining parts of the original), as well as a new and easy to navigate 2D map. No More Heroes 2 is bursting at the seams with new content, that will definitely give diehard fans, and newcomers to the series the experience they've been waiting for.
No More Heroes 2: Desperate Struggle will mark the first sequel to be made so far at Suda51's Grasshopper Manufacture, Suda calls it the No More Heroes that he originally wanted to make. All European fans will also be pleased to know that we will be experiencing No More Heroes the way that Suda intended this time round, as the sequel will see the inclusion of blood, unlike its predecessor.
No More Heroes 2: Desperate Struggle hits UK store 28th May exclusively on the Nintendo Wii, we can't wait to be welcomed to the Garden of Madness once more!