No More Heroes fans will be able to visit Airport 51 in real life and do a bit of clothes shopping, as Rising Star Games take over the respected Carnaby Street fashion label Chateau Roux No More Heroes style. As of today (May 28th) through to June 4th 2010, Chateau Roux has been taken over by No More Heroes 2: Desperate Struggle and rebranded Airport 51, the clothing store that features in-game. Alongside a life-sized model of Travis Touchdown, the shop will be full of items of clothing endorsed by Suda 51.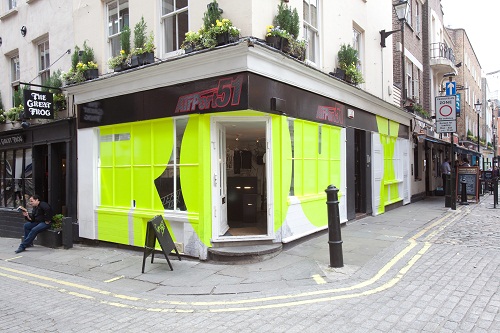 "We're delighted to be working with Rising Star Games on this innovative retail experience,'' adds Greg White, creative director, Chateau Roux. "No More Heroes 2: Desperate Struggle has a sense of style that is unrivalled - who knows where this collaboration will take us?"
The re-created Airport 51 will be open from Friday 28th May — Friday 4th June and is located just off Carnaby St, we know we're going to pop down and have a look in!
Coincidentally, No More Heroes 2 is available now on the Nintendo Wii for an SRP of £29.99. Keep an eye out on Gamercast, as we'll be posting a review soon, as well as anything we dig up at the London MCM Expo.