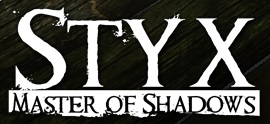 Cyanide Studios have released a new trailer for their upcoming 'Goblin stealther' Styx Master of Shadows. The new trailer shows off Styx's ability to create clones thanks to the precious amber flowing through his veins, this grotesque fleshy creation opens up new strategic opportunities as seen in the video below.
Cloning is one of the four powers that serve as Styx's base skills, these clones can blind targets, lure them away from Styx, and even drag them to their doom, such power comes with a price though, and these clones aren't exactly stable, you'll need to act quickly when utilising them or you'll find they deteriorate quickly before imploding.
Styx: Master of Shadows is a brand new 'infiltration' game that puts you in the shoes of Styx a small 200-year-old Goblin; a master in the arts of stealth, theft and murder, so you don't want to mess with him. In Styx: Master of Shadows you'll find yourself in the depths of the Tower of Akenash, a lofty structure that looms miles high and promises precious artifacts and the key to Styx's mysterious origins.
Styx Master of Shadows is coming to Xbox One, PS4 and Windows PC for £24.99 this October, keep your eyes open for more gameplay trailers, or you may just miss them... get it, cause he's stealthy.