Get your 3DS out of its carry case and cart it into the sun for some fun Steel Diver, and pick up a few street passes whilst your at it. With possibly the hottest weekend coming up, there doesn't appear to be many games to trap you inside the house, so get the sun cream out, pop on your baseball cap and play some 3DS on that bench in the park you always liked. Or maybe you'll enjoy the park bench with a little zombie murder? Here's our pick of the releases this week.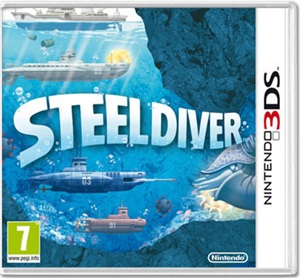 Steel Diver
Nintendo 3DS
Its time to crank out your 3DS for a fun little 3D action game that uses the touch screen brilliantly. Originally a tech demo for the Nintendo DS, Steel Diver was made into a full game and completely re-developed when its potential was imagined for the 3DS. Using the motion control to find enemy ships via your periscope, and the touch screen to work your submarine, this cute little game even comes with a 2 player game Steel Commander... think Battleships!



Plants vs. Zombies
Nintendo DS, DSiWare
The classic tower defence comes to the Nintendo DS... don't even think of saying port. This is no ordinary port, and Plants vs. Zombies has been expertly tuned for the DS, and contains everything that the PC game boasts, with 4 exclusive mini games to the cart, what better game to buy for your Nintendo DS? Just don't forget whatever it was that you set out to do before you started playing, Plants vs. Zombies is good at that, and will eat your time like a hungry Pac-Man.



Whilst submarines are not everyone's cup of tea, Battleships surely is, and being the newest 3DS title in the shops, why would you pass up some 2 player battleships with your 3DS buddies, if you aren't a techno Trevor then you should be amply pleased with the release of Plants vs. Zombies for the DS. Will you be buying anything this week?