FuturLab a studio based in Brighton, today unveiled their new title in development, following on after the release of their first PSP Minis title Coconut Dodge they have now announced their second Minis game "insert name here".
"Insert name here" is a futuristic shoot 'em up featuring what is claimed to be a unique teleportation mechanic. Last week FuturLab had sent pieces of a jigsaw picture puzzle around to 16 gaming websites, which when put together revealed a larger image, and now since then reveal some more imagery for the game's protagonist.
FuturLab's Managing Director, James Marsden said: "Coconut Dodge has been scoring very well with reviewers and gamers, with many people considering it the best example of what the minis platform can offer. However, with only a tiny budget for marketing we've found it very difficult to get traction with a larger audience. So, this time we thought of a way to get as much attention as possible!"
As you may have noticed I have referred to the game as "insert name here" now this is the fun bit, FuturLab want you to try and name their game. To help out any of those unsure what on earth to call it they've uploaded the main theme of the game for you to have a listen to on their website, as well as the chance to suggest names for the main character and even gameplay features that you think the game should have.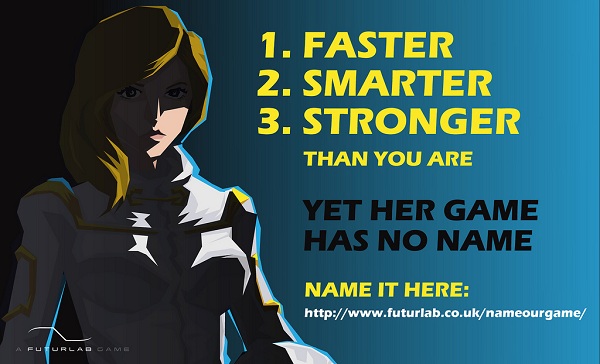 So if you feel like trying to name a game head over to FuturLab's website and submit a name, there will be one winner and runner ups as well. All getting mentions in the credits and being given a copy of the game when it's release (provided you have a PSN account and live in a country covered by SCEE or SCEA). So what are you waiting for? Go listen to that track and give it a go, you've got nothing to loose and the chance of a lifetime to win.