The MotorStorm festival is back in MotorStorm Apocalypse, and this time its away from Monument Valley, The Island and the Arctic, the franchise is back in The City; prepare for multi-vehicle action across the roofs of unstable skyscrapers, through ravaged buildings, darkened subways and over twisting bridge, all whilst jaw-dropping quakes tear the city apart in real time.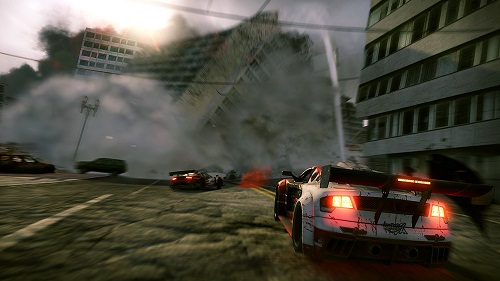 Motorstorm is no longer about winning, now it is a fight for survival, and the abandoned metropolis is the perfect playground for an all-new MotorStorm festival. Pick a vehicle from one of 13 classes, including supercars, muscle cars, superbikes and even choppers… then choose one of 40 unique races whilst looters and military contractors fight for what is left of the city. It is promised that no track is ever the same, as you must endure hundreds real-time dynamic events in the same vein as Split Second, putting you in the most unpredictable and spectacular races of your life.
The single player mode is a unique story comprised of three characters; each representing a different difficulty level where you can experience the Motorstorm festival from a unique perspective.
You can race against 4 of your friends in split-screen, or race against 16 players online, the additional game mode creator will let you create, share and play new gaming experience from scratch and customise your vehicles in game, or download new vehicles, parts and graphics from the Playstation Store, so each player can own their own unique vehicle that suits their racing style.
Motorstorm Apocalypse is set for release in 2011 exclusively for the Playstation 3, we think by going the Split Second route, Sony are definitely taking the game in the right direction, where it really should have been from the start of the series.