If you're krazy about Mortal Kombat then you'll be thrilled to know that Warner Bros. Interactive Entertainment have announced that they are seeking out the nation's first klass Mortal Kombat player to fight a battle to the death at the UK's largest consumer electronics event, The Gadget Show Live, at the NEC in Birmingham.
Through March 14th to April 4th various GAME and GameStation stores across the UK will be holding qualifying rounds to get you into the final competition where you will be playing in front of thousands of gamers at the spectacular 'Fight Arena' in the over 18 gaming zone.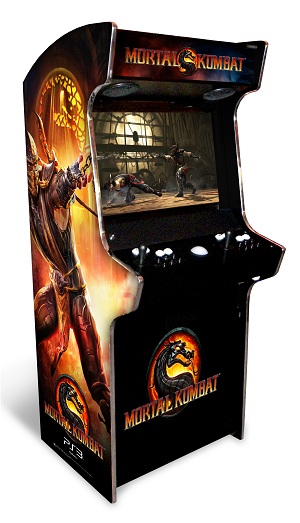 The 'Fight Arena' will be a huge draw the the Gadget Show Live event, allowing visitors to crush bones, spill blood and rip each other apart on a massive HD projection screen. The winner will get a full size Mortal Kombat arcade machine containing a PS3 console, and there will be spot prizes throughout the day as you do battle in the arena.
Both the UK and European finals will take place on Sunday 17th April and will be hosted by GameFace presenter Julia Hardy. If you are interested you can find the Mortal Kombat UK Tournament event page here.
The ever important question is whether or not a qualifying store is nearby, well heres the list of participating stores, go down to them next week and see just how kruel you can be;
March 14th 7-9pm GameStation - Nottingham
March 18th 7-9pm GAME - Norwich
March 21st 7-9pm GAME — Southampton East Street
April 1st 7-9pm GameStation — Hull
April 4th 7-9pm GameStation — Liverpool Lord Street
April 7th 7-9pm GAME - Kingston
April 8th 7-9pm GAME - Southend
April 11th 7-9pm GameStation - Birmingham New Street
Don't forget if you are a bit rusty you can get your punches and kicks up to scratch with the demo that is available now on the Playstation 3 for Playstation Plus users, and will be available to all March 15th, sorry Xbox 360 owners, no sign of a demo yet! Mortal Kombat is due for release April 21st on Playstation 3 and Xbox 360.