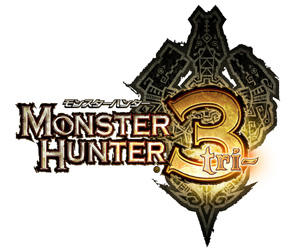 So our listeners will know that Catherine got to play Monster Hunter Tri a few months back, which was mentioned on episode 186.
Monster Hunter Tri is starting to get really hyped up, which is great news, as it's a great game (and Catherine has played it so she knows), and of course the even greater fact is that it's free to play online in the UK (unlike the Japanese version which was subscription based).
The game is set to come out on the 23rd of April across Europe, and Nintendo and Capcom have teamed together to bring a special gift to those pre-ordering/ordering the game.
If you're buying the standard edition or one of the bundles including a black Classic Controller Pro or Wii speak, you can receive a free Rathalos head figurine. Or if you're buying the Exclusive edition (the game, Wii speak and Classic Controller Pro) you will also get a Lagicarus head figurine in the box!
So pre-order your copy or bundle as soon as possible to ensure you get your free Rathalos head figurine. Monster Hunter Tri is an exclusive Wii title that will be available from the 23rd April 2010 in Europe.
Gamercast had the honor of attending a Nintendo VIP event at the Village Underground and you can see our impressions of the game here.