Many readers may not be aware, but Monster Hunter has an absolutely huge following all over the world, specifically on the Sony PSP where players still devote hours of their life to the incredible game, it has its own cult status of sorts, and diehard fans still congregate together, five years after its original release to hunt monsters together. Monster Hunter Tri will be the first game in the series available, and designed specifically for the Nintendo Wii; and despite any reservations that fans of the series may have, the game looks very impressive and rivals that of its previous counterparts on the Playstation 2.
The Monster Hunter series is notorious for its steep learning curve, however in Monster Hunter Tri you are no longer thrown into a game, instead you are introduced into the world of Monster Hunter through Moga Village, a small fishing community that have been having trouble with earthquakes, you are shown the various things that you can do in the game, as well as explaining the key points of the game in a very friendly tutorial, allowing for new players to join in on the variety that Monster Hunter Tri has to offer; something lacking slightly on the Wii.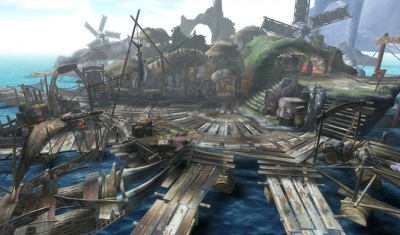 Monster Hunter Tri boasts far more features than its predecessors, including new weapons, such as the versatile Switch Axe that acts both as a great sword and a swinging axe. Underwater exploration and combat is another new and exciting feature, especially as we are promised no fiddly controls, which I can say thankfully is actually true. Monster Hunter Tri will also include a fully functioning Ecology system, which we didn't manage to see much of but they promise much, and Ecology systems are lacking in most games.
Although they have tried to add as many new features as possible to the previous games in the series, they have kept in everything that makes the games fantastic; there is still as much free-roaming, you can choose to catch bugs and fish all day instead of killing monsters, there's even a farm where you can kick back and grow some plants, Monster Hunter Tri give players an overabundance of choice, and we know at Gamercast that it will have gamers playing it for hours on end.
Read more »