In 2009 the Microsoft Flight Simulator studio was closed down after the franchise's successful 25+ years of games, a little later on in 2010 it was announced that the series would be returning in a slightly dumbed down iteration; Microsoft Flight. Much like the well loved Microsoft Train Simulator, fans of the genre have long awaited a return to the magificient series that set the bar for most simulators today.
Today Microsoft Flight was premiered as a new free to download game that allows players to jump into the freedom and fun of flight. Players will be given the beautiful Island of Hawaii to fly over and will have a selection of options to keep them entertained including a range of missions, a series of flying challenges that will test their skills, and a collection of hidden aero-caches to find on the island.

For a free to download game Microsoft Flight looks extremely impressive, and as Flight Simulators goes it looks to be the most visually stunning to date not only is it a pretty face though! The realistic representation of the earth comes complete with region-specific weather patterns, foliage, terrain and landmarks to give you the most authentic flying experience without leaving your computer desk.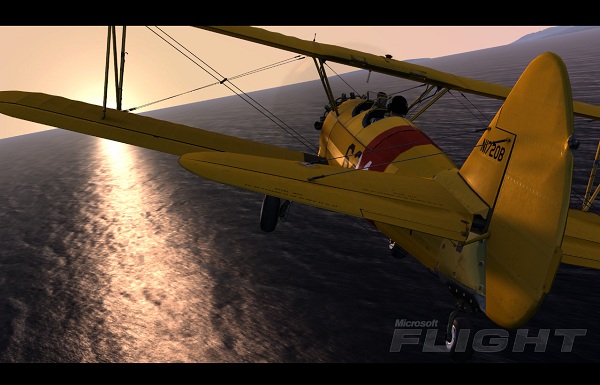 Don't worry however, not all the focus is on your surroundings, and players can take to the highly rendered accurate cockpits of several planes for the most authentic piloting procedures, or simply control their plane through the exterior view. This apparently makes Microsoft Flight easily accessible to beginners whilst also allowing experiences players a fair challenge, we cannot wait to see for ourselves.
After downloading the game for free, players can jump into the possible hours of gameplay on the Island of Hawaii, in addition, those that sign in with their Games for Windows LIVE account will automatically receive additional free content including the Boeing Stearman plane, extra missions and access to Achievements and an Online Pilot Profile. Of course there will also be a range of additional conent that can be bought through microtransactions that will include new aircraft, regions and customisation options, which promises to be released frequently!
To be among the first to try Microsoft Flight you can sign up for the closed beta, however as of yet, unfortunately an official release date has not been confirmed but estimated at Spring 2012.