At Comic-Con Microsoft and LucasArts announced a new limited edition Xbox 360 Slim console to join the ranks of the Halo Reach and Gears of War 3 consoles.
So Star Wars collectors, fans and soon to be new owners of Xbox 360s only need to wait until what is presumed before the end of the year for the release of Kinect Star Wars and a shiny new Xbox 360 slim.
Buyers of the new R2-D2 styled console can look forward to the following benefits:
Kinect Star Wars game
Custom R2-D2-themed Xbox 360 Console with custom sounds
White Kinect Sensor
Custom C-3PO-themed Xbox 360 Wireless Controller
320 GB Hard Drive
Xbox 360 Wired Headset
Kinect Adventures game
Exclusive downloadable content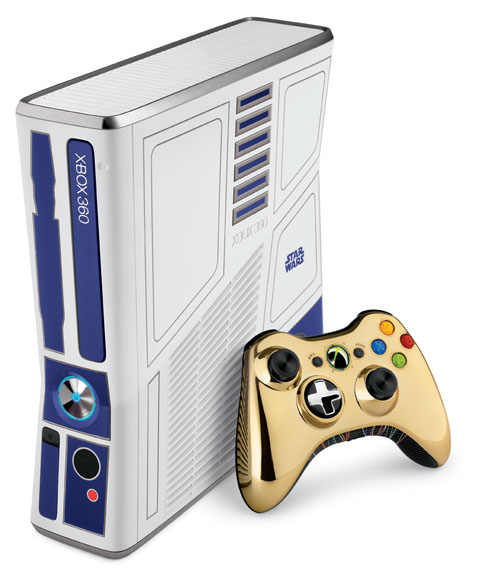 Sadly the look of the console and controller aren't hugely compelling me to put down a pre-order, but I was oh so tempted to be sold on the eject and power on sounds alone which you can hear if you skip to about 3:30 on the video below.
One nicer aspect is they haven't just stuck the Star Wars logo over the console and of course is instead based around the characters themselves.
You can pre-order yours today from GAME and other reputable retailers for a RRP of £349.99. It's a lot of money to pay out but you're getting an extra 70GB in hard drive space as well as Kinect Star Wars and the R2-D2 look with awesome power on/eject disc tray sound effects.