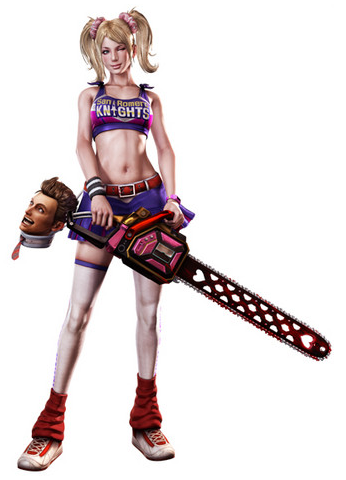 With the MCM Expo literally round the corner, undoubtedly one of the most anticipated games at the show is the upcoming Lollipop Chainsaw, well this weekend you can experience a truly unique performance when the San Romero Knights zombie cheerleaders perform routines, cheers and chants at the UK's largest cosplay event.
They've even got a line up of what they are performing:
- The Bone Crushing Split Lift
- The Ravenous Thigh Stand
- The Zombie Apocalypse Kickline
- The Brutal Infection Shoulder Stand
Doesn't it just make you wish that there was a zombie version of All-Star Cheerleader... no? Just me then.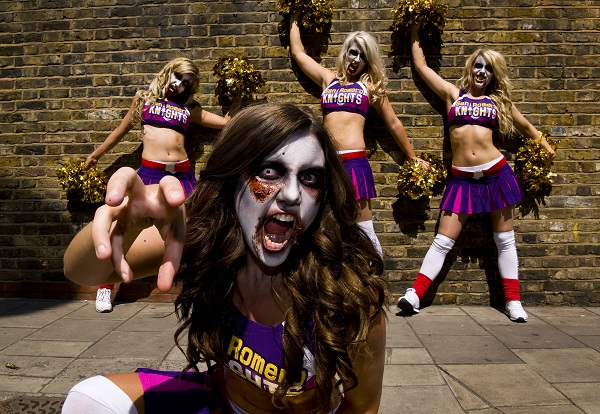 It's a shame that from the photos, only their faces appear to be zombiefied, however a zombie cheerleader is a zombie cheerleader, and if you want to feast your eyes on the undead squad performing in front of thousands, and want to give the upcoming Lollipop Chainsaw a play, then head on down to the MCM Expo this Saturday, 26th May at the London ExCel.
Lollipop Chainsaw is the story of a sweet and innocent zombie-hunter cheerleader Juliet Starling, so a bit like Buffy the Zombie Slayer. With a chainsaw in hand Juliet slices, dices and splits her way through hoardes of the undead with boyfriend Nick.
Lollipop Chainsaw will be available June 15th on the Xbox 360 and Playstation 3, it looks like its got all the magic of No More Heroes and more, and we personally cannot wait for its release.