It's the game we've all been waiting about 9 years for; Max Payne 3! Whilst Sam Lake is no longer at the helm, has Rockstar ever failed us?
It would be an understatement to say that we were simply looking forwards to Max Payne 3, with all of the recent development videos concerning the animations and movement of Max Payne 3, the game has definitely moved forwards to a positive direction. So what better announcement to make you hungry for more Max, than a Special Collector's Edition!
The contents include;
Max Payne 3
10" Max Payne Statue
Still Life Art Prints depicting Max's demons and vices
Copper and brass-plated iron bullet-shaped Keychain
Classic Multiplayer Pack featuring 8 classic characters
Disorderly Conduct Multiplayer Weapons Pack
Max Payne 3 Official Soundtrack featuring instrumental score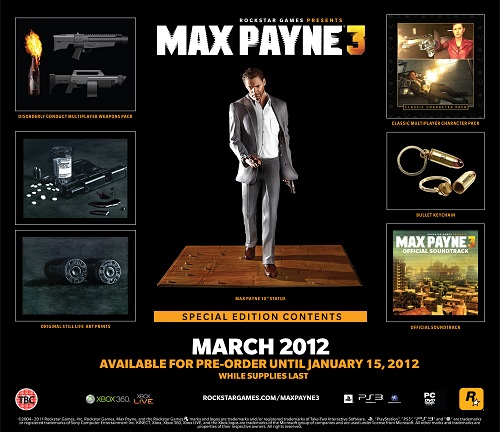 The Statue looks brilliant, and whilst the prints may be a little pretentious, Rockstar sure do know how to make their special editions, but we knew that already from Grand Theft Auto IV.
The Disorderly Conduct Weapons Pack includes the Hammerhead Auto Shotgun, G9 Grenade Launcher and Molotov Cocktail. Whilst we do not usually care about in-game content, the Classic Multiplayer pack includes Sam Lake's Max Payne, Timothy Gibb's Max Payne, as well as Mona Sax and Vladimir Lem, now who bets we might get a Nicole Horne just for giggles?
The Max Payne 3 Special Edition will be available to pre-order from November 21st to January 15th on Xbox 360, Playstation 3 and Windows although of course the game won't be available until March 2012. For those in the UK you are now available to pre-order the Special Edition off Zavvi. This Special Edition is ideal for fans just like us, and the digital characters, weapon pack and collectible content will not be available anywhere else.