Atlus have officially announced a collector's edition for their eagerly awaited American release of Catherine. Released in February in Japan, a few months ago there was news of it coming to America, and they've listened to the fans by announcing the production of a Deluxe Edition for their most eye-catching game this year, and this special edition doesn't disappoint.
As well as the same pre-order bonuses that Japan were given; an 11 track soundtrack as well as a 36 page artbook, gamers in America are being graced with the choice to pick up a "Love is Over" Deluxe Edition. It contains the following:
Polka dot boxers
Empty Hearts T-shirt
Catherine pillow
A copy of the game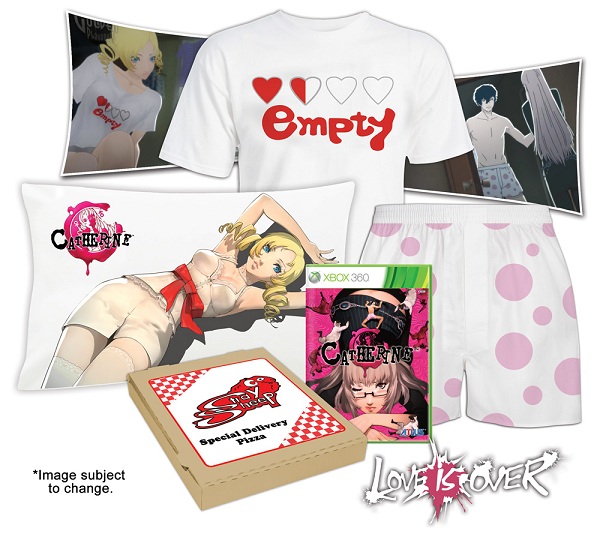 All packaged nicely in a pizza box straight from Stray Sheep, and if you pre-order this limited edition you'll also get the Soundtrack and Art Book.
Catherine is currently set to release on July 26th for the PS3 and Xbox 360, the standard version is due to retail at $59.99 and the Deluxe edition has been priced up at $79.99. You can currently order the "Love is Over" Deluxe Edition from Amazon.com and Videogames plus (who will ship to the UK) who we highly recommend. Fingers crossed Catherine gets a PAL release at some date, but either way I've got my "Love is Over" Edition pre-ordered.