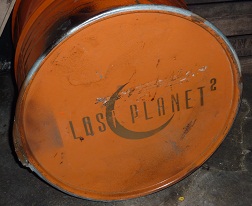 Capcom had put out all the stops last Friday at their press event for Lost Planet 2, and got Gamercast in the mood for some futuristic fights on E.D.N.III.
We were shown a presentation on Lost Planet 2 delivered by Jun Takeuchi; the producer of the series, the most significant feature is the 4-player online co-op where players must stop the Akrid hoard, and you are going to have to work like a team, otherwise you've no chance against the behemoths that you will be pitted against, through playing the campaign you will also unlock customisation for your online character.
Looking at Lost Planet 2 as a sequel of Lost Planet there are some very sharp differences to be found. You are still limited in the amount of weapons that you can carry, although there have been a few new weapons added to your possible inventory, as well as a host of new grenades, all of which are extremely helpful in the multiplayer.
You may have noticed that there doesn't seem to be much snow, following ten years after the first game global warming has been initiated, and now EDN III is host to lush jungles, vast oceans, sandy beaches and active volcanoes, the only snow we're set to see is on top of a mountain! However this also affected the rise of the new G-type Akrids, vastly different from the original insectoid type species; creating bigger scale fights and a far more epic gameplay, with their salamander abilities enabling them to grow back limbs in the heat of a fight.
Lost Planet 2 is set to follow in the style of games like N3 (Q?,2006) where the player actually changes character multiple times throughout the game, in Lost Planet 2 there are six different characters that you control during the game, hopefully this is for the same reason as N3; to experience the views that each side carry, making for interesting narrative.
The VS (Vital Suit) have made a steady return in Lost Planet 2, there are now more than ever, and they are now taking to the skies! Alongside a range of helicopters, flying transport carriers, and lightweight hovering VS's there is a comeback of the standard suits, as well as tanks and many different iterations, including a 50ft spider-like VS that you can see in our video.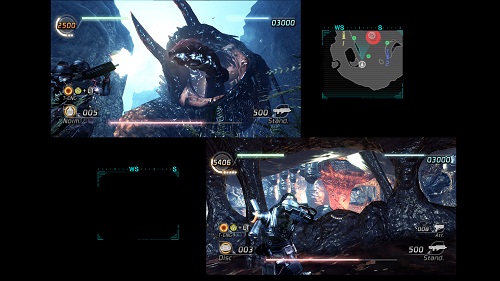 We had the luck of trying out around five different multiplayer maps, which were each refreshingly different from one another and catered to different types of playing style; for instance the stadium-type map was very much of a map for gut instinct; forcing players to react quickly in very tight spaces. Or the jungle map where you were required to look out for any slight movement in the undergrowth where a rival player may be stalking around.
We were not shown any of the single player campaign, so I cannot say anything on the appearances of Marcus Fenix, Dominic Santiago or Albert Wesker, however the co-op campaign looks so much better, and four player co-op is definitely something I want to get in on when the game is released May 18th on Microsoft Xbox 360, Windows and Sony Playstation 3.
Here is a video of Gamercast's regular gamer Tim having a go on the multiplayer in a 50ft VS to whet your appetite for all things huge and mechanic.
" type="application/x-shockwave-flash" allowscriptaccess="always" allowfullscreen="true" width="560" height="340">