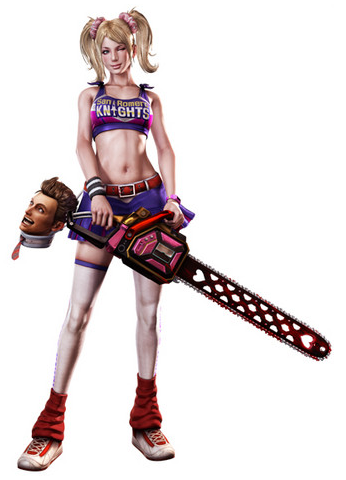 As if having James Gunn writing the game was not enough, Grasshopper Manufacture have announced even more talent in the roster of their upcoming zombie hack-n-slash with a difference; Lollipop Chainsaw.

To make things even better they've announced this news with a video showing off the talent. Voicing the game's protagonist Juliet Starling is Tara Strong, a name that some might not be familiar with, however she's voiced dozens of video game and cartoon characters that you'll know of, especially having recently voiced Harley Quinn in Arkham City. Starring as Juliet's disembodied boyfriend Nick is actor Michael Rosenbaum most well known as Lex Luthor in Smallville.

The cast is also assembled with Linda Cardelleni of Freaks and Geeks fame, Shawnee Smith of the first four Saw films, Michael Rooker of Walking Dead and TV and film veteran Gregg Henry. Sean Gunn's brother is also managing to sneak his way into the game playing Swan; the resident goth, and of course Jimmy Urine of Mindless Self Indulgence is lending his talent to the deranged Zed. Check out the video, especially point 1:21 and see just why Lollipop Chainsaw is going to be like no other game that you have played before!

" frameborder="0" allowfullscreen>Lollipop Chainsaw is the story of a sweet and innocent zombie-hunter cheerleader Juliet Starling, so a bit like Buffy the Zombie Slayer. With a chainsaw in hand Juliet slices, dices and splits her way through hoardes of the undead with boyfriend Nick.

Lollipop Chainsaw will be available June 15th on the Xbox 360 and Playstation 3, it looks like its got all the magic of No More Heroes and more, and we personally cannot wait for its release.