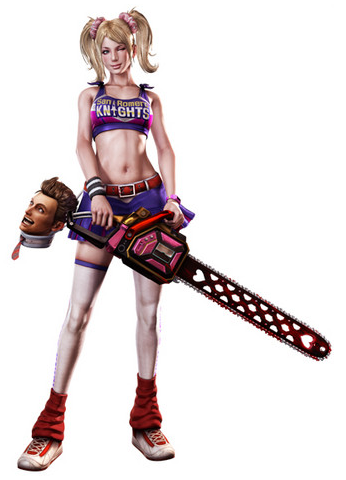 It's Valentines Day tomorrow! Whilst not on every gamer's mind, Valentines Day is one holiday that cannot be ignored, especially with the brilliant Lollipop Chainsaw seeing release later this year. To celebrate Lollipop Chainsaw Warner Bros. Interactive Entertainment and KADOKAWA GAMES have treated everyone to a Valentine's Day trailer to explain exactly why there is a guy's head following her around. Say hello to Nick:

" frameborder="0" allowfullscreen>Whilst the exact method she saved Nick was not the most logical option, their undying love remains throughout as she uses him to perform special Nick combos throughout zombie slaying.

Lollipop Chainsaw is the story of a sweet and innocent zombie-hunter cheerleader Juliet Starling, so a bit like Buffy the Zombie Slayer. With a chainsaw in hand Juliet slices, dices and splits her way through hoardes of the undead with boyfriend Nick.

Lollipop Chainsaw is set for a release in 2012, and will be coming to the Xbox 360 and Playstation 3, oh, and did we mention its from Grasshopper Manufacture; the zaniest developers out there, and it's penned by James Gunn, of Slither and Super fame.