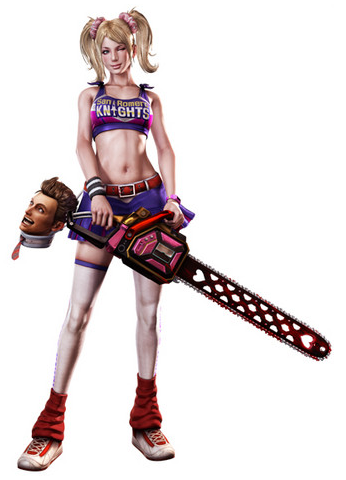 It's the week we've all been waiting for, this friday, the game from the twisted minds of Suda 51 and James Gunn is available in all good retailers, that's right Lollipop Chainsaw will be available to buy at the end of this week!
Having already gotten extremely positive press from US journalists, Lollipop Chainsaw sounds like it is most definitely delivering on what was promised; an over-the-top action game that feels like you are stepping into the mind of Suda 51, with the added bonus of the dark humour of James Gunn.
If you've been living under a rock for the last year then you'll not of heard of Lollipop Chainsaw; the latest game from Grasshopper Manufacture, the studio led by the visionary weirdo Goichi Suda, it's the tale of a sweet blissful cheerleader Juliet Starling who moonlights as a chainsaw wielding zombie hunter, when a zombie outbreak takes place at her High School.
So if you feel like a bit of a crazy weekend, we recommend picking up the 'different', game Lollipop Chainsaw which will be heading to all good retailers and online distribution websites for the RRP of £39.99 for Xbox 360 and Playstation 3, although if you look around online you can get it for about £30.