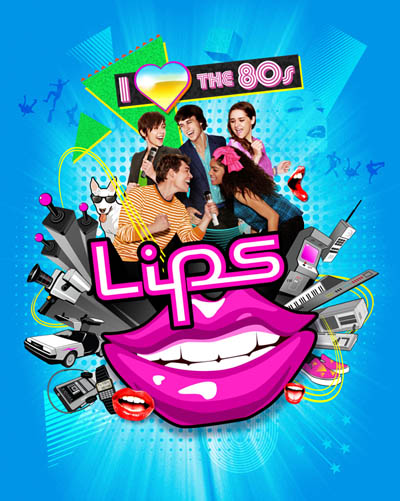 Microsoft Game Studios first published Lips back in 2008, with legendary rhythm action developer iNiS who brought us the likes of Ouendan and Gitaroo Man. It is now almost a year and a half year later and the fourth Lips title is due for release on April 2nd 2010.
After releasing Number One Hits and Party Classics Lips fans are now being presented with Lips I love the 80s, for all those 80s fans out there. Which may be most gamers out there, especially as GTA Vice City helped bring out the 80s in all of us back in 2002.
I love the 80s is set to include 40 of the most memorable tracks including Spandau Ballet's Gold, David Bowie's Let's Dance and Kim Wilde's Kids in America.
Like previous titles it will be available as a standalone game, or bundled with an Xbox 360 wireless microphone.
For those raring to know what tracks are in this new instalment, we have included a list below.
The Look Of Love - ABC
Forever Young - Alphaville
Cruel Summer - Bananarama
Dreaming - Blondie
Video Killed The Radio Star - The Buggles
You're The Inspiration - Chicago
Don't Leave Me This Way - The Communards
Do You Really Want To Hurt Me - Culture Club
Boys Don't Cry - The Cure
Let's Dance - David Bowie
Whip It - Devo
Come On Eileen - Dexys Midnight Runners
Rio - Duran Duran
Mirror In The Bathroom - The Beat
A Little Respect - Erasure
A Good Heart - Feargal Sharkey
Relax - Frankie Goes To Hollywood
The Power Of Love - Huey Lewis and The News
Don't You Want Me - Human League
Centerfold - J. Geils Band
Bad Reputation - Joan Jett and The Blackhearts
Too Shy - Kajagoogoo
Walking On Sunshine - Katrina and The Waves
Bette Davis Eyes - Kim Carnes
Kids In America - Kim Wilde
Celebration - Kool & The Gang
Our House - Madness
Blue Monday '88 - New Order
The Riddle - Nik Kershaw
Love Is A Battlefield - Pat Benatar
Roxanne - The Police
Don't Get Me Wrong - The Pretenders
Super Freak - Rick James
Alive And Kicking - Simple Minds
Tainted Love - Soft Cell
Gold - Spandau Ballet
Shout - Tears for Fears
Mickey - Toni Basil
Vienna - Ultravox
Don't Go - Yazoo
All of us at Gamercast are looking forward to some heavily 80s fuelled singing, especially some Power of Love!
Please enjoy the trailer below.