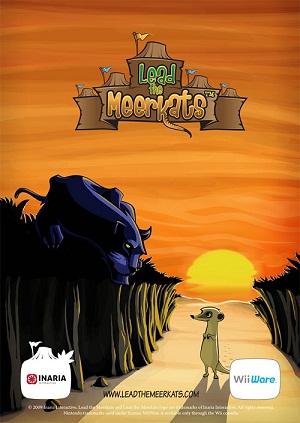 The aptly named Lapland Studios have just announced a new RTS for animal lovers everywhere, Lead the Meerkats is the first game to simulate the life and trials that meerkats face everyday. By taking advantage of the Wii's control system, players are thrust into the lively and endearing world of meerkats.
Players will assume the role of a young meerkat that has been separated from their pack, and you must create your own by digging networks of burrows and enlarging your territory, however you will need to be cautious, and make quick decisions, there are a lot of enemies in the Savanna, and it will be your choice to fight or run to the safety of your burrows. You'll also have the threat of rival meerkat packs to counter while you send yours foraging out for food.
Evi Bauer, President of FKMP commented, "We've been waiting for this for ages: a meerkat game that is fun to play, lovely to look at, and realistic in what it is about: meerkats! And the best of it is that for every copy of the game bought a donation is made to the FKMP to support KMP meerkat research"
Lead the Meerkats sounds like an interesting combination of the realistic nature of a simulator, and the gameplay of Pikmin, and will be available through WiiWare on May 28th 2010 in Europe, and just encase you were wondering, Lead the Meerkats has no association whatsoever with comparethemarket.com, thank goodness!