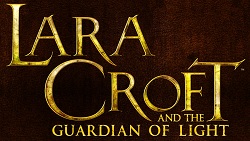 Are there any Lara Croft fans out there? Well I'm definitely one, and Lara Croft has been captivating gamers since the mid-90s her last real game was the epic Tomb Raider: Underworld, and now she's back for more in Lara Croft and the Guardian of Light.
Lara Croft's new game is quite different to what you'd usually expect from her Tomb Raiding days, it's the first standalone, fully downloadable title developed by Crystal Dynamics (as when Tomb Raider Anniversary came out on the Xbox 360 Marketplace it was DLC for Tomb Raider Legend) and instead of the standard third person camera it now dons a set isometric camera and co-operative play.
"We put everything we could into our first downloadable adventure and we're very proud of what we have created," said Darrell Gallagher, General Manager of Crystal Dynamics. "We designed a game that can be played in three ways; as a compelling single-player adventure, as a fun local co-op game and as a wider online co-op experience and we're pleased that gamers will have the chance to play both single player and local co-op modes on their living room couches at launch, with online co-op allowing gamers to play across multiple couches arriving shortly afterwards."
Lara's adventure takes her on the search of an artifact called the Mirror of Smoke, however once she's found the mirror right at the start of the game she's ambushed by Vasco, however they didn't know or care about the curse it carried. This then woke up Xolotl who quickly wipes out Vasco's henchmen, only to leave Lara and the Guardian of Light, Totec. Lara then joins forces with Totec to stop the evil Xolotl from destroying the world and plunging everyone into an eternal darkness.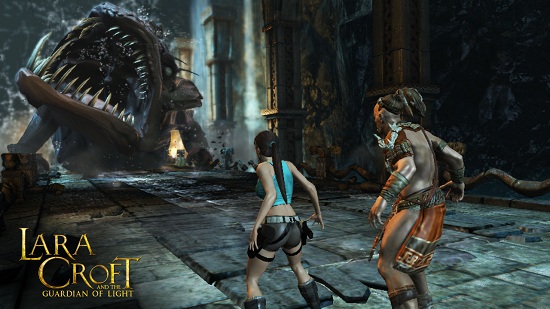 The game features single player and multiplayer modes so a friend can join in as Totec, however you can only currently play with another person locally, but online co-op will be coming soon and will be free, and as well as that there are a lot of plans for DLC and the first pack (if that includes the online co-op we are unsure) will be free for the first 30 days for those that have bought it on Xbox 360.
We briefly talked about Lara Croft and the Guardian of Light back when it was announced in March and I've kept a close eye on it ever since, and now I'm very pleased to say you can pick it up off on the Xbox 360 Live Arcade marketplace now! For 1200 MS Points (It will also be available on the PSN and Steam from September 28th for £14.99), so what are you waiting for? Go buy it!