With only two weeks till the release of the hotly anticipated L.A. Noire, Rockstar have announced the L.A. Noire features that will be available for members of the Rockstar Games Social Club.
If you are unfamiliar with the Rockstar Social Club, I suggest you listen up; the service has been around since Grand Theft Auto IV, and was actually introduced alongside the popular open world game, since then Rockstar have tracked your stats for Midnight Club: Los Angeles, Grand Theft Auto: Chinatown Wars, Beaterator and best of all Red Dead Redemption.
As well as track your stats, the website contains leaderboards, worldwide statistics and the ability to link up your Xbox Live or Playstation Network account to recieve special items. So if you were gunning for 100% completion in Red Dead Redemption, the Social Club could tell you exactly what you were missing, or perhaps you wanted to find out what sort of crimes were being carried out in Liberty City right now, well you could do exactly that.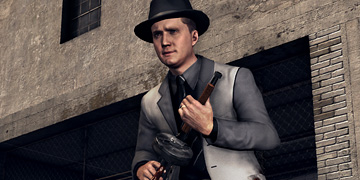 Rockstar have announced that L.A. Noire will fully support the Rockstar Social Club and will give players the unlockable Chicago Lightning Detective Suit that enhances Cole Phelp's accuracy when using a shotgun or machine gun. It's also pretty classy too! You will also have access to the 'Ask the Community' feature where you can consult the community for aid when in search of the truth, where better to ask than the source itself?
A full list of the features that the Social Club have to offer can be found here. These all feature alongisde the robust game progress stat tracking and friend comparison features that members have come to love, including enhanced versions of the checklists that were essential in gaining 100% in Red Dead Redemption.
If you are not already a Rockstar Social Club member, what are you waiting for? Sign up now!