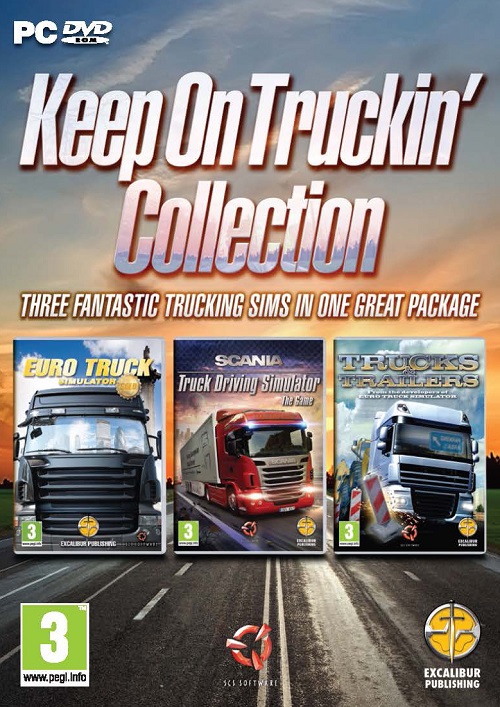 There's one type of simulator that has really grown over the last few years, one that has brought the genre to the front pages of Steam, and has finally brought true awareness to the fabulous developers at SCS Software. Its none other than the truck sim! TML Studio may have busses, and GIANTS Software have got farmers, but there's nothing quite so freeing as talking out onto the road in a great big truck!
To celebrate the wonderful world of trucks, publisher Excalibur Publishing have released the Keep on Truckin Collection comprised of three of the best trucking games to grace the PC in the last few years. Now whilst you won't find the addictive Euro Truck Simulator 2 in the box, you will get its predecessor Euro Truck Simulator Gold, this game personally rekindled my love with trucks after spending many an hour in SCS Software's late and great 18 Wheels of Steel series.
Euro Truck Simulator Gold was the company's first true venture into creating a large simulated world, Euro Truck Gold sought to emulate a very stripped down Europe, with a very early license model similar to what Euro Truck Sim 2 achieves. In ETS you can upgrade your cab and take it across Europe, delivering cargo with endless play time. The only real downside was the limited traffic AI, and the lack of diversity in the cities you visited. However if you want a truck simulator that will not demand too much of your PC with the similar, if not a little more basic formula of ETS2, there's no better starting point than the original!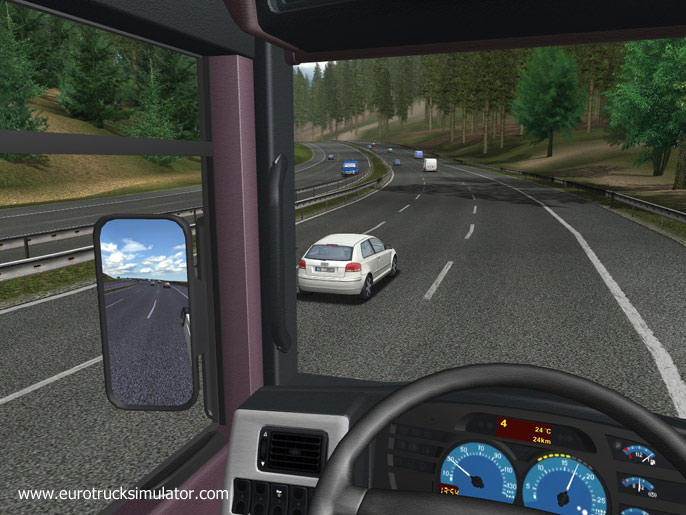 Between Euro Truck Sim and the more recent Euro Truck Simulator 2, SCS Software released what hardcore fans deemed filler software, both of these are present in the Keep on Truckin Collection, and rather than give you the same old game as Euro Truck but re-skinned, they encompass a more arcade and high-tension area of truck driving that will remind you intensely of the fast-paced Sega Arcade game 18 Wheeler, or perhaps that was just me.
Trucks and Trailers is not your standard simulation game, whilst you are still driving a specialist vehicle, it would more aptly be called Truck Parking Simulator, however that doesn't make it any less engaging, you can get hooked on this title instantly, much like the late and great Bus Driver, whose arcade-styled foibles first introduced me to the world of simulators.
Trucks and Trailers is an addictive simulator-cum-arcade title, and it's challenging tasks will have you cursing and fuming as you strive for that almost impossible gold medal for reversing your truck into a cramped location round the corner. Never before have I retried a mission in a game so many times! It will have you playing for hours on end, however if you are a bit of a perfectionist the 50 or so tasks will only keep you at bay for a short amount of time, so it is unfortunate that a task editor was not included for once you have aced every challenge.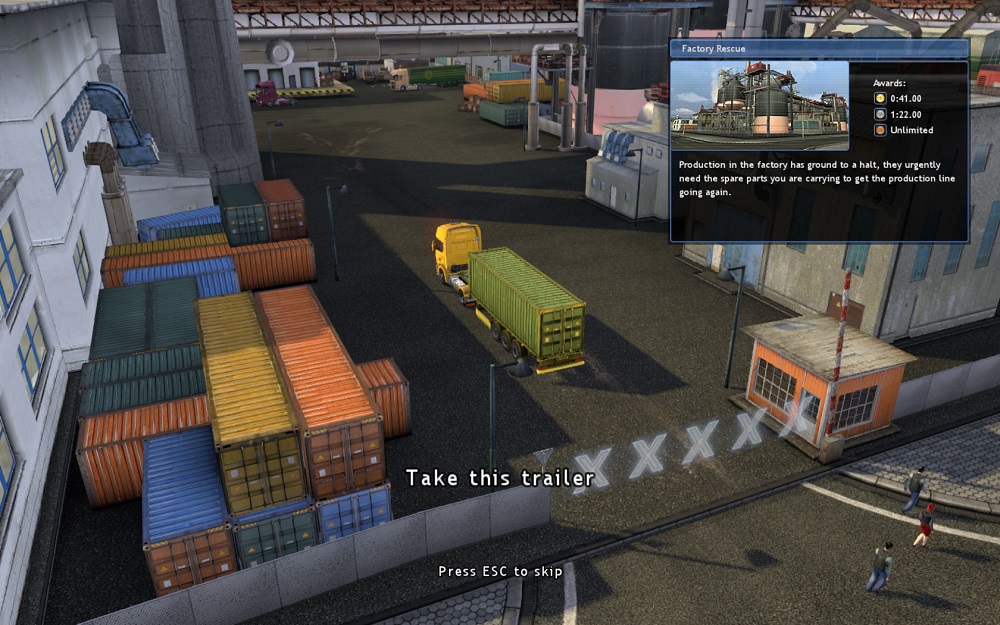 The last game in the collection is Scania Truck Driving Simulator, that delivers yet again, a fresh experience for a novice truck fan. The game is more than just a simulator, in fact it has the makings of about three simulators in one, and takes part over a wide variety of different modes presented as competitive challenges where players can compete head-to-head with other truck drivers across the world, and some of the most intense driving scenarios ever seen in a simulator before.
Now the pinnacle of Scania Truck sim is the Dangerous Drives portion of the game, this much like it suggests, pits you and your fully loaded trailer against treacherous situations with actual dire consequences in what is literally intense truck driving. Dangerous Drives will see you driving along the narrow perilous 'death road' of Bolivia, navigating down heavily parked alleyways, traversing flooded regions and aiding earthquake relief via unstable infrastructures, in this mere mode, Scania Truck Driving Simulator manages to make the simulator genre genuinely cool, and extremely tense!
The other two modes are challenge based like Trucks and Trailers; focusing on the Young European Truck Driver competition, and time reaction tests that allow you to experience the age-old shock at how bad your reactions really are, although you won't be mowing down genuine cyclists, pedestrians, dogs and deer the concept is pretty cool, and especially when you are driving at the dead of night in low visibility with rain pouring down by the bucket. The mode suitably puts you on the edge, and you cannot help but feel uneasy, and whilst the set of four reaction tests are not particularly necessary to the Scania experience, they are a nice touch.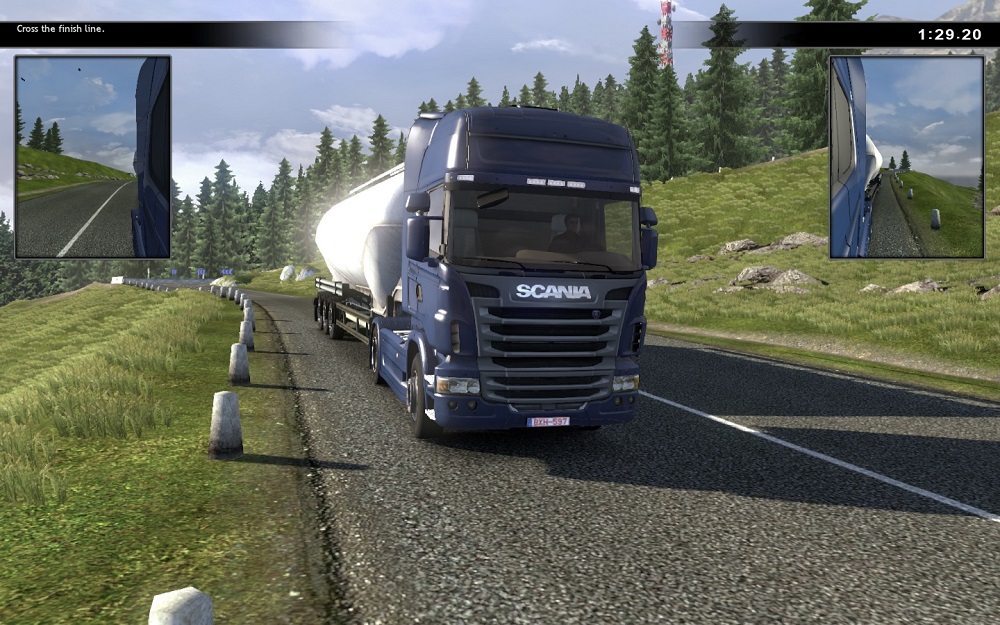 Scania Truck Driving Simulator is not just an adequate trucking simulation it is a fully realised experience with fantastic graphics that are extremely well optimised for low-spec PC's, a full day/night cycle, and a weather system to rival Bus & Cable Car Simulator, simply put this game is exquisite.
If you're looking to get into the strange and wonderful world of truck simulators and don't want to splash out your cash for Euro Truck Simulator 2, get three absolutely brilliant games for the same price that deliver such a wonderful mix of simulation and arcade style experiences!
The Keep on Truckin Collection is available now from all good retailers for the SRP of £24.99, and its worth every penny, just don't be surprised when you get hooked and need a fix of Euro Truck Simulator 2!