It may only be out in a couple of weeks time, however Telltale Games have just announced the Deluxe Edition for their upcoming Jurassic Park: The Game. Much like the other Telltale game, it comes with exclusive items, artwork and more.
Unfortunately it is only available for PC, so Xbox 360 and PSN fans will not get the great collectors treatment. The Deluxe Edition is packed full of cool InGen approved gear including;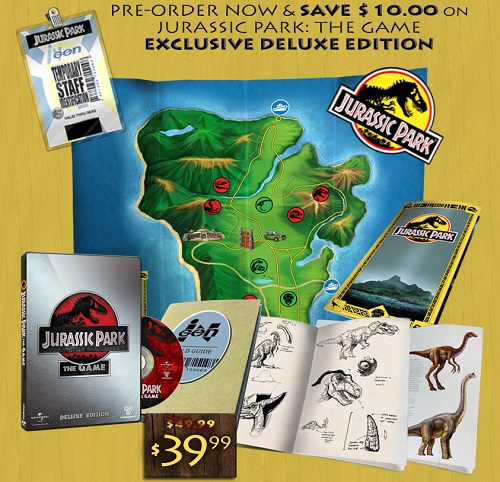 All four episodes of Jurassic Park: The Game for PC and Mac
Replica InGen staff ID badge
Replica Jurassic Park Brochure/Map
Replica Jurassic Park patch
InGen Field Guide: 32 Pages of content welcoming you to Jurassic Park
Exclusive Deluxe Edition packaging
Access to exclusive digital content including the game soundtrack and more
Although you won't be receiving your game as soon as it is released, owners of the Deluxe Edition can download the game on the launch day, plus if you are super lucky and are a US domestic customer, and order it before the 14th November, you should get it just in time for the holidays!
Jurassic Park: The Game Deluxe Edition can be pre-ordered now, and it's available in limited quantities, so get your orders in sharpish, if you do so before November 15th you'll save $10! For a price of $39.99 for the whole four episode series, and all the little goodies present in this exclusive edition, you'll most definitely be a clever girl... or boy.