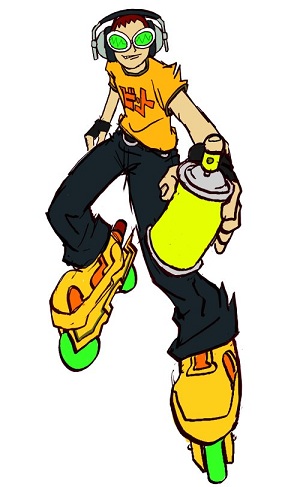 If you've been waiting for a new Jet Set Radio as long as we have, you may have just given in and admitted defeat, thankfully however Sega are privy to what their fans want, so when Jet Set Radio was announced for re-release and a good sharpening on the XBLA and PSN, the internet literally exploded with joy.
Well after much patient waiting, Sega have announced a pricing structure for all of the platforms that it will be seeing release on, as well as the release dates, if for some reason you don't know what Jet Set Radio is, or are very unsure about Sega's ability to re-release classic games (see Crazy Taxi) then be sure to check out our hands-on preview from E3.
Jet Set Radio will be coming to the Xbox Live Arcade, Playstation Network, Playstation Vita and PC via Steam, now this is where it gets complicated; If you want to get achievements for the game, via Steam or Xbox Live then you'll have to wait til September 19th, where the game will be available for $9.99 or 800 Microsoft Points respectively.
However if you have a Playstation Plus account, and you really cannot wait anymore for Jet Set Radio to be released, well Playstation Plus members will get a week's early access to the game on September 11th, with non-members able to buy the game from September 18th for $9.99.
If however you are looking forward to a very swish game for your lonely Playstation Vita, then you'll have to wait a little while longer til October 16th for the game's release again for $9.99.
So there you have it, if you're weird like Catherine you'd probably buy it on every platform, it is a shame that the game is merely download only, however with the almost complete soundtrack on board, you can relive the fantastic Dreamcast days on your home consoles, now where's Jet Set Radio Future at?