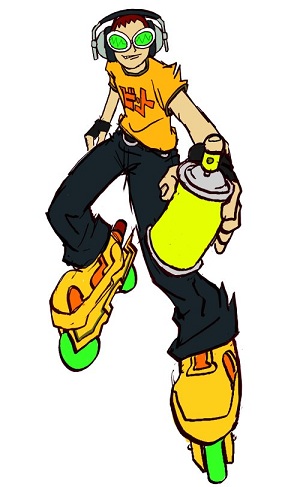 After the amazing news of Jet Set radio being released on Playstation Vita as well as digital platforms for consoles, SEGA have now announced the full track listing for the re-release of Jet Set Radio, and hopefully it won't disappoint any fans out there.

SEGA have grabbed tracks from the European, American and Japanese releases to try and get us the best of the best, but if you've a keen eye you may notice a couple are missing. However to be fair the current track list is immense and a lot better than I thought it'd be.

Hideki Naganuma
"Grace and Glory"
"Humming the Bassline"
"Let Mom Sleep"
"Moody's Shuffle"
"Rock It On"
"Sneakman"
"Sweet Soul Brother"
"That's Enough"

Guitar Vader
"Super Brothers"
"Magical Girl"

Deavid Soul
"Dunny Boy Williamson Show"
"Miller Ball Breakers"
"On the Bowl (A.Fargus Remix)"
"Up-Set Attack"

Also including such popular tracks as...
"Electric Tooth Brush" Toronto
"Everybody Jump Around" Richard Jacques
"OK House" Idol Taxi
"Bout the City" Reps
"Funky Radio" B.B. Rights
"Mischievous Boy" Castle Logical
"Yellow Bream" F-Fields
"Just Got Wicked" Cold
"Dragula" Rob Zombie
"Slow" Professional Murder Music
"Improvise" Jurassic 5
"Patrol Knob" Mixmaster Mike
"Recipe for the Perfect Afro" Feature Cast
"Funky Plucker" Semi Detached

Some fans out there may notice a lack of Yappie Feet by Deavid Soul and Many Styles by O.B. One, however SEGA are trying their best to acquire the licenses before the game comes out, otherwise you may have to do without.

Jet Set Radio is due for release on Xbox Live Arcade, Playstation Network and PC via digital download this summer, with a Playstation Vita release at some point as well too.