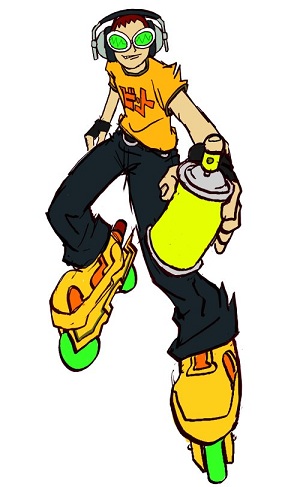 Some more awesome news straight from SEGA today, they've announced that with the amazing reaction from the fans with the re-release of Jet Set Radio for XBLA, PSN and Windows they've decided to release it on another platform, the Playstation Vita!

The Vita release of Jet Set Radio not only has the same features as the original game, but it includes new ways to interact with the game. From touch functionality for when you spray graffiti, to camera integration. SEGA have said that Jet Set Radio with be playable on the Playstation Vita at E3 so we cannot wait to see how well these new features work.
"The fan reaction to our recent reveal of Jet Set Radio has been incredible!" said Haruki Satomi, Senior Vice President of Digital Business at SEGA. "As Jet Set Radio is focused on creativity, the touch capabilities of the PlayStation VITA are proving to be a perfect fit."
Also something mentioned in their press release stated that Jet Set Radio is not only getting upgrading visually for it's re-release but the original soundtrack will still be present, hopefully that's every track and not just a few of them!
Jet Set Radio is due for a release on Xbox Live Arcade, Playstation Network and Windows in the summer, hopefully the Playstation Vita release will come at the same time, or follow shortly behind. Either way it looks like I'll be buying two copies of one of the best Dreamcast games released.