It's Humble Indie Bundle time! As it's been way too long since the last one, well this time round it's something that really interests me and hopefully interests you too!
This new bundle focuses around Amanita Design and their amazing array of games plus a couple of interesting extras. The big focus of the bundle is they're debuting Amanita's newest game Botanicula, an adventure game where you guide a band of tree creatures on their journey to save their home from mean parasitic invaders.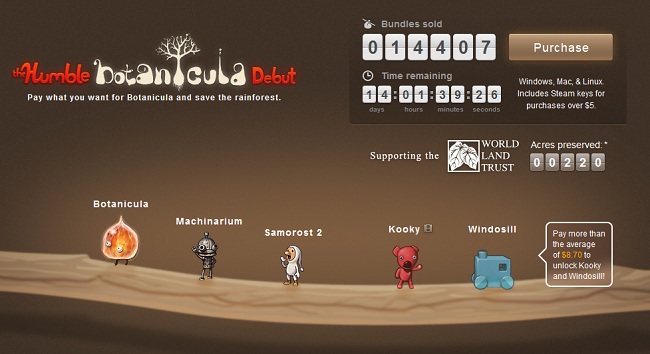 As well as Botanicula you'll also get Machinarium and Samorost 2, but if you pay more than the average you'll also get Vectorpark's interactive game Windosill and Kooky; a beautiful Czech film that's art direction was led by members of the Amanita team.
All the games as usual are DRM-free and the soundtracks are also included too! Plus is you donate over $5 you are then given a code to redeem the games on Steam. Plus as a slight difference to the usual Humble bundles you can support nature conservation by giving some of the money you pay towards the World Land Trust.
So go buy these awesome games now! Support the amazing Amanita Design.