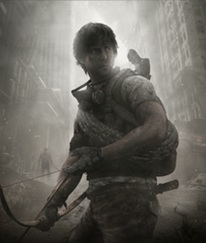 Ubisoft and Microsoft have together announced I Am Alive's position within the Xbox Live Arcade House Party and the price that you'll have to pay to experience the post-apocalyptic action adventure title.
We've got our fingers crossed that I Am Alive is going to be an amazing experience, with gleaming hope that it'll be the survival horror style game we've been waiting for. I Am Alive follows a man who's on the hunt for his wife and daughter that were lost during the "event", after a year's searching he's managed to find his hometown; Haventon, but still no sign of his family. The sheer destruction of the town and the whole world may lead you to believe he'd give up hope, but there's always a chance.
While playing I Am Alive you'll be challenged by not only enemies but your environment too, from the toxic dust, scaling large buildings and bluffing your way out of a gunfight, I Am Alive makes some big promises which we hope aren't broken.
I Am Alive is going to be released during the final week of the Arcade House Party on March 7th and will be available to purchase for 1200 Microsoft points. Of course if you don't want to fork out your cash straight away, you can always pick up the trial.