Daedalic Entertainment have announced that they are releasing a follow-up to their crazy 'homemade' adventure game Edna & Harvey: The Breakout, the new spin-off to the simple but effective point and click is Edna & Harvey: Harvey's New Eyes where players can enter the strange world of the original with a new protagonist.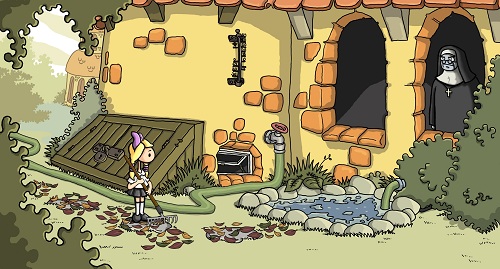 We say goodbye to Edna, and hello to Lilli; the seemingly best-behaved little girl in the whole world. Doing whatever she is told her innocent charm seems both tragic and eerie, but how long will the deeply buried angry thoughts and childlike disobedience stay hidden, there's already an inkling of crazy within her when you consider the little gnomes that come and paint anything unpleasant pink.
Edna & Harvey: Harvey's New Eyes puts players back to the world of Edna & Harvey, so be prepared to meet many old friends, and discover new hand-made cartoon locations in full HD, hopefully the animation will be a bit nicer to look at too!
Edna & Harvey: Harvey's New Eyes will be released in German speaking territories in the third Quarter of 2011, so it looks like international fans will have to lie in wait.
After having just received Edna & Harvey in the UK, I'm sure many fans that saw the potential in Edna & Harvey: The Breakout, will be highly anticipating Harvey's New Eyes, just like us.