Rising Star Games have happily announced that they will be bringing two new Harvest Moon titles to the market with Harvest Moon: Frantic Farming for the DS and Harvest Moon: Hero of Leaf Valley for the PSP in PAL territories, Hero of Leaf Valley is one that Gamercast have been looking forward to ever since we announced its release in the US.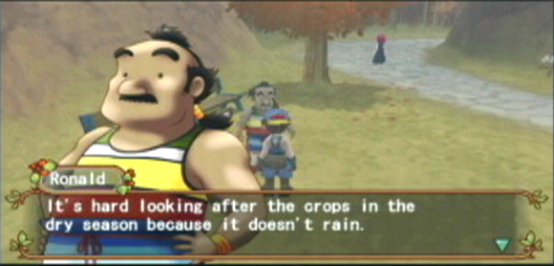 Harvest Moon: Frantic Farming takes away from the traditional Harvest Moon gameplay and branches the series into a puzzle game that will put the player's farming skills to the test. Gamers will take on one of 12 playable characters in a variety of modes including Story, Mission and Score Attack where each crop is represented by a icon and colour and must be matched as quickly as possible in order to harvest the crops.
Harvest Moon: Hero of Leaf Valley will be coming exclusively to PSP, marking the biggest Harvest Moon adventure to date on the Sony handheld. The story surrounds the inhabitants of Leaf Valley joining forces to save itself from destruction, however it will be down to the player to decide how they will go about saving it, with the possibility of 16 different paths.

As with all Harvest Moon games your aim is to progress via the growth of crops and raising animals whilst in your spare time mining ores and gems to upgrade your tools in order to save Leaf Valley and the family farm, skills and money will be gained in part-time jobs, and it will be necessary to earn the trust of the villages in order to get their help.

"The Harvest Moon series is Rising Star Games' longest standing and most successful franchise," says Martin Defries, managing director, Rising Star Games. "Harvest Moon: Frantic Farming and Harvest Moon: Hero of Leaf Valley both push the boundaries of the Harvest Moon series, bringing new challenges and styles of gameplay to the classic collection."
Although Harvest Moon: Frantic Farming may be taking a step in the wrong direction for the series, a match-em-up can never fail to engage a player, so we are very happy to say that both titles will be released this Autumn/Winter for their respective consoles.