With the highly anticipated Multiplayer Beta launching for Halo: Reach May 3rd, it has now been announced that Halo: Reach will be available in Standard, Limited and Legendary Editions when the game launches this autumn, if you bought the Legendary edition for Halo 3 then I think you know what to expect, however rather than a Spartan helmet, this time around we are treated to an exclusive MacFarlane 10 inch 10lb statue, full details are below;
The Limited Edition's game disc is housed in a recovered ONI "black box", an exclusive elite armour set for use in multiplayer and an artifact bag containing Dr. Halsey's personal journal and other classified documents relating to the Halo universe.
The Legendary Edition along with the contents of the Limited edition, also includes a Noble Team staute, crafted by the great guys at MacFarlane, that are individually molded, hand-painted and numbered, as well as a UNSC-themed custom packaging, and an exclusive multiplayer Spartan armour effect.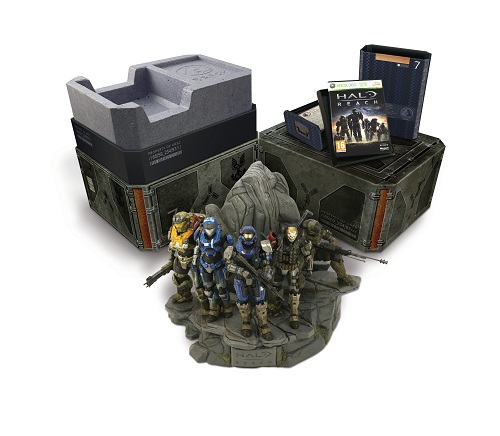 The standard edition of Halo: Reach will have a SRP of £49.99, the Limited £59.99, and the Legendary £99.99, the special editions will be available at select retailers online while stocks last, so pre-order now and you will also secure access to the exclusive in-game armor! You can pre-order from Game here now.