Warner Bros. Interactive and DC Entertainment, today announced Gotham City Impostors, an original download-only fps where players battle for the control of a Gotham City overrun by impostors that are inspired by DC's Batman and The Joker. Monolith Productions; those brilliant developers behind F.E.A.R, No One Lives Forever and Condemned are working on this new First-Person Shooter complete with Over-The-Top Gameplay and insane characters.
Gotham City Imposters allows players to customise their own characters; loosely based around their amateur villains and vigilantes' Bats and Jokerz that can have crazy costume pieces, homebrew gadgets and an array of traditional and imagined weapons.
"Gotham City Impostors blows apart expectations for superhero games with an exaggerated take on first person shooters, set in a part of the DC Universe players have never seen before," said Samantha Ryan, Senior Vice President, Production and Development, Warner Bros. Interactive Entertainment. "Monolith is creating a game that turns Gotham City upside down and we think fans are going to have a blast with this creative twist on multiplayer heroism and anti-heroism as they play up the classic rivalry between Batman and The Joker."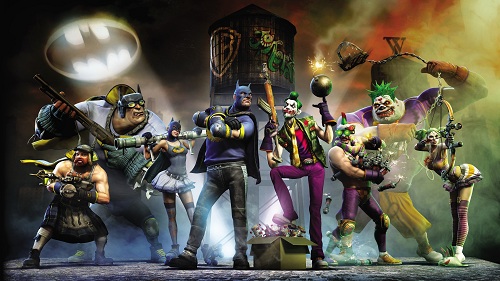 Whilst there is little on the title, including no release date of yet, the screenshot just makes the mind boggle at what insane characters will be possible. Monolith rocked the boat with the humour in No One Lives Forever, so I for one am very much looking forward to this new downloadable shooter that will be available on Xbox Live Marketplace, PSN and Windows PC.