This weekend marks the 3rd annual Global Game Jam. With over 150 participating locations or 'jam sites' over 44 countries around the world it is the largest Jamming competition where gaming enthusiasts can get together for 48 hours and make something they can be proud of. To put it in the most simplest of terms, you team up with a group of people you may or may not know and make a game together from scratch. Most games created are intended to be fun to pick up and play and do not usually last over 5 minutes, enabling you to create whatever you want as long as it focuses around the theme that is picked at the very beginning of the challenge.
Unlike most jamming competitions the Global Game Jam is agnostic when it comes to hardware and software, so you have an abundance of choice with how you create your game, whether you have little programming skill and use an engine like Game Maker or are a programming genius and script in either Python or Flash, as long as you can get the job done you'll have the chance to come out of the challenge with a game under your belt using absolutely any programs you wish.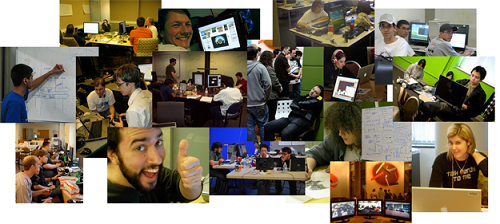 What's best about the Global Game Jam is that it is open to absolutely everyone, whether you have a few programming skills, you love to write music or simply think yourself a bit of a games designer you can take part. You don't have to be a professional in the games industry or a student at a university; you can be of any walk of life and experience.
With a larger amount of jamming sites than ever before you'd be unlucky if there is no location nearby, and with the Game Jam taking place over 48 hours most sites allow you to camp out overnight and usually provide computers for you to use. Some sites do charge for entry, but they usually provide food and snacks if this is the case.
With over 3,500 jammers registered so far you aren't going to be part of a small collection of nerds having fun, you'll be one of the thousands taking part. If you've never taken part in any 48 hour challenge of any kind now is the best time to start! You'll find out how you cope with stress, your true team working skills, and see just how your body reacts when you keep it awake for 30+ hours and feed it way too much.
We all go a bit crazy here at Gamercast, and usually some form of Cabin Fever insues where something completely serious turns extraordinarily funny, and will have you in fits of laughter for hours, if this does happen to you a bit of fresh air is always good! This was us last year.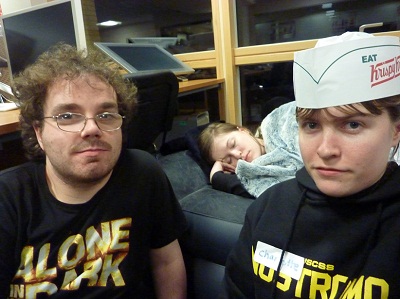 Last year saw over 900 games made at over 140 sites, games can range from simple arcade titles to complex strategic games, as long as you can get it made in 48 hours you have achieved something that only a few people can say that they have done and it is all recorded on the website.
This year's keynote speech is also being peformed by none-other than Keita Takahashi, the visionary designer behind Noby Noby Boy and Katamari Damacy which will be extremely entertaining as it officially opens the the 2011 Global Game Jam.
To make things a little more interesting the GGJ10 organisers are including achievements to spice up your ideas, these proved so popular they have continued into 2011, and this years contest contains over 15 achievements including such optional constraints as having all assets procedurally generated, your game be based on a true story, or that your game lasts for the entirety of a song. The Global Game Jam is all a bit of fun to be honest, and if you've nothing planned this weekend, what have you got to loose?
The Gamercast team has successfully made games at the past two Global Game Jams and will without a doubt be competing this year; we hope you give it a consideration too!