The next in the line of serious simulators stems from a joint venture between SCS Software and Excalibur Publishing, it's German Truck Simulator, the spiritual twin of UK Truck Simulator, Welcome to Germany folks.
From the very beginning you will have the choice of three locations in which to start your trucking career, Rostock, Dortmund and Nürnburg. Your cut of the profits at the start ranges from mid 14% to low 15%, you will also be given a class C truck, and your first mission. All deliveries are now timed, which makes the game far more challenging to its predecessors where you could spend as much time as you liked delivering cargo, you also have the option to form your own company once you've attained enough money to afford a garage, however, don't expect this very soon into the game.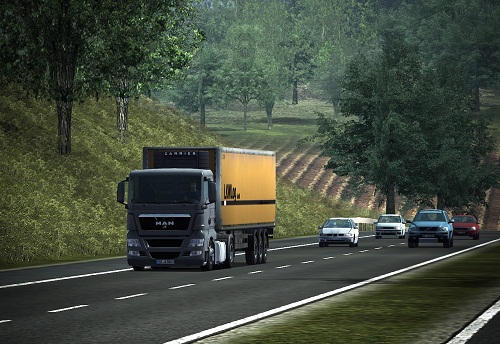 The first nice touch to the game is that the regions of Germany are watermarked with their flags, and once you head out onto the open road the landscapes feel far more alive than ever before, and the trees are oddly hypnotic, flying past on the motorways. There is a lot of variation to your scenery in regards to buildings, with many farms and different houses, a welcome change in comparison to the normal straight pieces of road with little variation of scenery, that previous Truck Simulators like 18 Wheels of Steel was full of.
Unfortunately it does take a lot of dedication to get to the stage where you can start up your own company; a small garage will set you back €75,000 on top of that you will then need to hire drivers and buy lorries so you really need to save up around €150,000 — €200,000 before you can really start your own business, which is very rewarding to those that are happy to put in the time.
From owning your own company you will unlock certain perks, for instance, fuel and repairs at garages you own are 20% cheaper than at public service stations, and you do not need to find your drivers jobs, your company will find them jobs automatically, so all you will need to worry about is completing your own jobs on time, and you can watch the money roll in.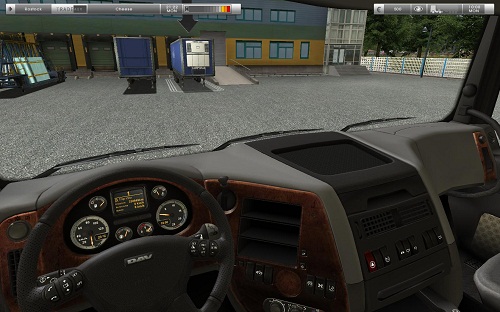 Overall, similar to UK Truck Simulator, the game looks and feels a lot better than the previous incarnations, and the ability to run your own business bumps up the longevity of the game, and gives you a far greater goal opposed to simple haulage for no purpose. Again the layout of cities could have had a little more imagination, but no real issues of the game detract from overall experience, and SCS Software have honed their Truck Simulators for the past 8 years, and they have definitely made a great formula, all they need next is realistic traffic simulation.

German Truck Simulator is available now at all good retailers for the SRP of £24.99, for more info you can check out Excalibur Publishing.