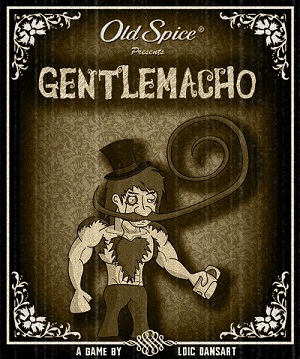 A new Xbox Live Indie Game has hit the market today in the form of Gentlemacho, a gentle but manly brute's hairy adventure, for an exceedingly cheap 80 Microsoft Points.
Made by Loïc Dansart a full time independent game developer from Belgium, Gentlemacho is a funny and lighthearted side-scrolling platformer that was created for the Microsoft Dream Build Play Old Spice Challenge 2010.
Gentlemacho is about a traditional English gentleman who finds himself cursed by the Spirit of Manliness, and is changed into a manly brute. Unlike your usual platforming heroes Gentlemacho does not jump on his enemies or hit them with fireballs, instead Gentlemacho has the ability to extend his body hair, allowing him to smack his enemies with his moustache or hair, or to escape traps with the effective 'Armpit Evasion', however due to his superhuman senses, he cannot stand his own stench and will pass out unless he finds samples from the 4 freshest places in the world in order to create the perfect Old Spice formula.
Gentlemacho will travel through Matterhorn, Fiji, Denali and Cyprus; each with their own unique environments, enemies and bosses. Gentlemacho features high definition animated 'old timey' cutscenes, inspired by the silent movies of the 1900s, the game is available now from the Microsoft Indie Games Marketplace for 80 Microsoft Points, we know we'll be checking it out, expect to see a review soon!