We love independent titles at Gamercast, and if there's something we love even more, its independent adventure games. So we were chuffed to find out that the brilliant Gemini Rue; which we sampled at the 2010 Eurogamer Expo, is seeing a release through Wadjet Eye Games who designed and published the beautiful Blackwell Legacy titles.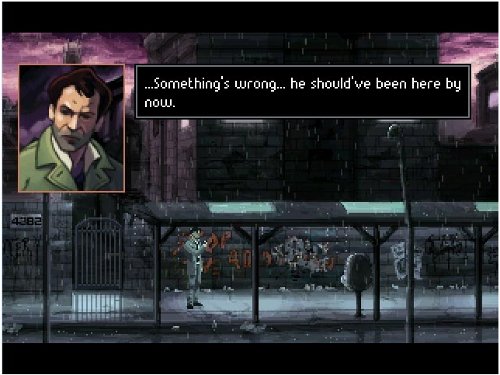 Wadjet Eye Games have just announced their partnership with developer Joshua Nuernberger who designed Gemini Rue; an Independent Game Festival Student Showcase winner in 2010. This retro-styled adventure game that combines point and click gameplay alongside a gripping sci-fi noir narrative will release February 24th as pre-orders begin today.
Gemini Rue -or as it was formally known, Boryokudan Rue- is an intense adventure game set in a dystopian future that is dominated by a corrupt crime syndicate, you will assume the role of two different characters; Azriel Odin an ex-assassin searching for a defector from the Gemini System, and 'Delta-Six' a hospitalised man whose memory is wiped from the very beginning of the game.
Both characters are brought together in a comprehensive and complex story that rivals the most high-budget of adventure titles. Created with the humble Adventure Game Studio engine, Gemini Rue features a verb-based interface, hand-painted backgrounds and professional voice acting to accompany the original soundtrack composed specifically for the game.
Starting today Gemini Rue can be pre-ordered as a digital download for $14.99. However for a short amount of time you will be able to pre-order a limited edition CD version that will include the game, the full soundtrack, professional packaging and access to the downloadable version of Gemini Rue when it launches online. Expecting to ship in March you will not want to miss out on this limited offer for $24.99 as it will only be available to purchase during the pre-order period which ends February 24th. You can purchase the game from the official website.