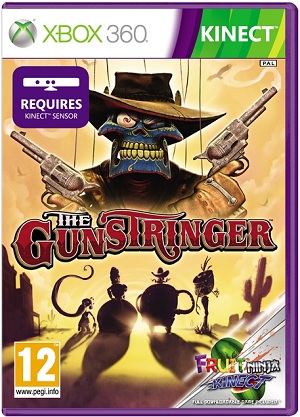 If you love your Kinect, then you'll be pleased to know that this September you can buy two games for your shiny peripheral for £29.99!
When you buy Twisted Pixel latest release; The Gunstringer then you will also receive a token code for the full downloadable version of Fruit Ninja Kinect via Xbox Live.
The Gunstringer puts you in control of a gun-toting marionette's adventures that combine solo platforming and shooting mechanics with collectables, unlockables, abilities, rewards and more. To further celebrate the release of the game players will be able to download a free add-on pack at launch called "The Wavy Tube Man Chronicles", pitting players against the time-travelling son of Wavy Tube Man; the first boss that players will battle in the game.
However if you don't like your cowboy pseudo futuristic warrior battles and just want some fruit slicing action, then September may be too long to wait for a copy of Fruit Ninja Kinect. Well you're in luck, it might not be free, but Fruit Ninja Kinect will be available via the Xbox Live Arcade on August 10th.
Pre-ordering The Gunstringer will also get you two codes for free Avatar items from the game, available exclusively through select retailers when the game hits stores September 16th 2011.