As a thank you from the Just Cause 2 team for all the carnage produced in the last two weeks, players can now ram, smash and crash their way across Panau in, yes, a pimped-out ice cream van! The Chevalier Ice Breaker is available now for Xbox 360, PS3 and PC absolutely free, featuring lowered suspension, aluminium alloys and side skirts that complement its front bull bars that will tear apart anything that stands in its way.
Oh wait… and we forgot to mention, it's pink!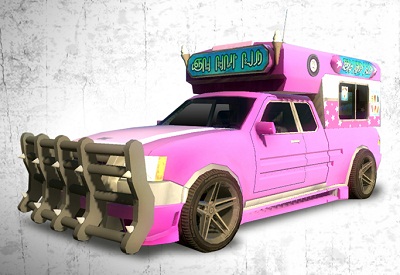 In case you've been under a rock and you've no idea what we're talking about, Just Cause 2 is the recently released sequel to the hit mayhem game Just Cause. As Rico Rodriquez, you must take on the whole island of Panau and its military regime, to track down your former boss and mentor; Tom Sheldon who has gone rogue. Utilising a unique grapple and parachute combination there are no limits; BASE jump from the tallest mountains and leave a trail of destruction in your wake. You are given the freedom to tackle missions in any way you choose, and with another 100 vehicles at your disposal, there are no boundaries for the chaos that you will cause. Just Cause 2 is available now for PC, Playstation 3 and Xbox 360.