The Fighting Fantasy series is a nostalgic past-time of true nerds, and everyone will remember having at least one or two books in the series. UK-based studio Laughing Jackal are currently working on a new PSN minis project for PS3 and PSP based on the series. The first title will be based on Talisman of Death, considered one of the most controversial in the series.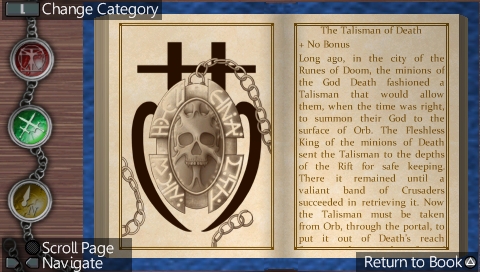 Talisman of Death is the first game being produced, however Laughing Jackal have plans to do more, and they hope that the franchise will successfully move onto Sony's consoles, and build a platform where more titles based on other Fighting Fantasy books can live in the future!
Including a tile-based combat system, alongside the classic dice based system that fans will know at love, allowing players to experience the classic gaming book in a whole new way!
The 3D interface also brings the book to life with an all-new Log Book that waves goodbye to frantic pencilling, and rubbing out on your previous adventures, as well as a good way to prevent yourself from backtracking. A Bios book will also keep information on all of the characters, items and weapons you encounter, and New Character Creation, Luck and Skill test systems will enhance the experience of the game, which will be keeping the old rule set, but presenting everything to the fans in a new and exciting way.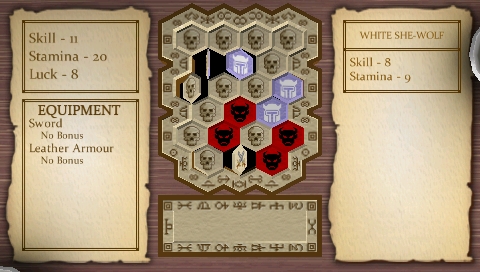 Laughing Jackal are the developers behind multiple Playstation Minis games including the popular Cubizz, Fighting Fantasy: Talisman of Death will be one of many new games that they are releasing on the platform, and without the need to rub out your stats, items and everything that the fantastic Fighting Fantasy books required of you, this will mark a fantastic beginning to the series for fans and newcomers.
Fighting Fantasy: Talisman of Death minis will be available on the PS3 and PSP via the PSN Store in Europe and America, whilst there are currently no release dates or pricing details, watch this space for more info, we can't wait to relive a little bit of our childhood once more.