Do you know your cultivator from your combine harvester? Do you reckon you can yield a field of crop before rain falls? Farming Simulator Gold requires you to do all of these and more! Focusing solely on the various cycles on a farm, it plays like a technical version of Harvest Moon, centred primarily on the machinery at your disposal, not only will you be driving a tractor for about 70% of the game; you will also use a large number of farming implements, ranging from mowers to hay balers.
On first glance it may appear that in the career mode, Farming Simulator Gold dumps you onto an empty farm with some machinery, asking you to make a living for yourself on pretty much nothing. However, on closer inspection, you will find that your silos are quite full with grain, and some of your surrounding fields also contain crop ready to harvest, in fact after emptying your silos, and selling your crop off to the highest bidder you already have the ball rolling, and can afford to upgrade or buy some new machinery! I found that within an hour of playing, I was being slowly reeled into the game, until I was trying to make as much money as possible so that I could dispose of my run-down tractor for something a lot faster and with better steering. As well as striving to complete personal goals there are also side jobs that you will come across on the island; such as finding bottles to recycle; it is a shame that more side jobs were not included, various other possibilities like cutting your neighbours grass occasionally would have kept the world you inhabit far more fresh, as the island otherwise feels quite starved of life most of the time that you are playing.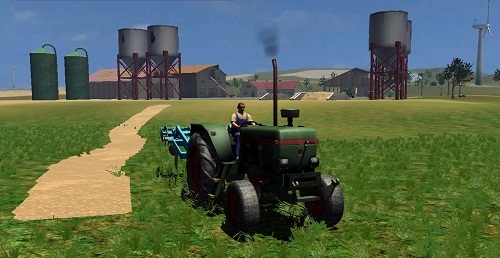 Although you will not find a tutorial in the career mode, there are tutorials available from the various missions that you can carry out; unless you are an expert on farming cycles or farm machinery you will need to play through at least a few of the missions to get to grips with the game and it's multitude of features. There are some real unique and entertaining missions to be found aside the tutorials and obstacle courses, not only can you get used to the sights around the island, you can try to bring in as many hay bales as possible before the dreaded rain falls, or even try out the new machinery exclusive to Farming Simulator Gold, and if you are just looking to simply have a go at harvesting some crops, or experience just how much hay fits into a bale without wishing to start up a career; you will find that the missions cover almost every aspect of farming that you were ever interested in.
Read more »