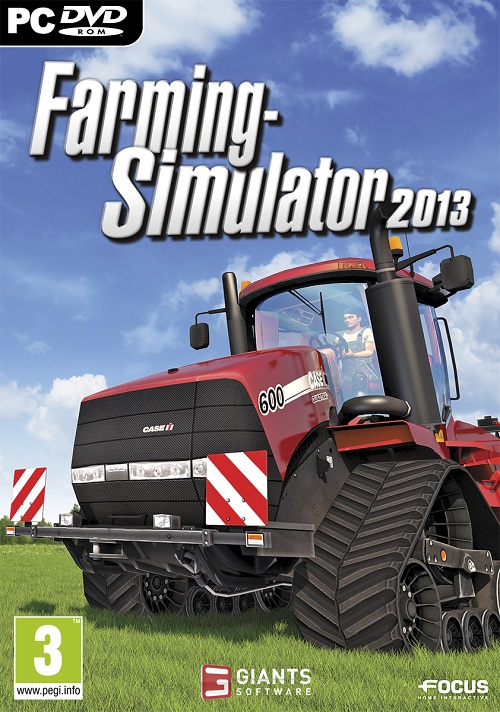 Farming Simulator makes its return in the 2013 edition, often renowned as the biggest and best simulator of its kind -sorry agricultural simulator- GIANTS software have undertaken the task of creating the best farming simulator out there, but does the latest incarnation of the series give us enough of a reason to upgrade our equipment?
If you're new to incredible open-world sandbox of Farming Simulator, then we'll get you up to speed, the hobby of farming has not simply sprung to the masses on Facebook in Farmville, gamers have always loved the relaxed attitude that the setting brings, and the Farming Simulator series is one often ridiculed but played by hundreds of thousands of avid fans. Developers GIANTS Software have been churning out the game for a few years now, and whilst it doesn't offer the most authentic simulation, what it does offer is an inviting arcade-simulation experience into the world of crop farming, so get ready to brush up on your terms and techniques!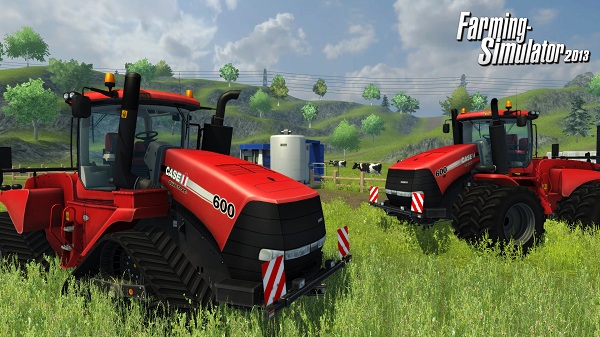 In farming sim they make the experience as authentic as possible, so in order to harvest your precious crops you must own a field, plough it, cultivate it, sow your seeds, spray and harvest, then repeat it all over again for your next field. Don't worry, because you won't have to do it all yourself, and if you wish you can hire workers to help you out on your fields, but they'll only perform one task, and with a whole town's worth of fields that's a lot of wages. To get away from the predicament of so much to do with so little time, GIANTS created one of the biggest allures of the Farming Simulator series; the game supports co-operative farming with online play, allowing you and your buddies to invest time together into your farm, that's right!
The rest of the players of Farming Simulator come for the machinery, and Farming Simulator 2013 without-a-doubt boasts the most impressive line-up of vehicles and accessories to date with some full-on beastly machines in this year's line-up including the tank-like Case IH Quadtrec, the Big X 1000 Forage Harvester or the Grimme Tectron 415 and Mactron 620 introduced specifically for the harvesting of potatoes and beets, this is all alongside a host of new devices from Kotte, Horsch, Amazone, Vogel and more, as usual and most importantly the machines are beautifully detailed.
For those that did not try out the Platinum DLC for Farming Simulator 2011 the extras from it have been added into the body of 2013, so you can expect to bring in a moderate amount of money with Beehouses, and keep lettuces, tomatoes and herbs fed in greenhouses, as well as the added 'green' options of solar panels and wind farms, however despite them being present as DLC last year they still feel tacked on, and GIANTS have not fully integrated them into the game, unlike the new potatoes and sugar beets that come complete with in-game tutorials and some jaw-dropping new machinery to try out, these place-able constructs are shoved into the back of the shop with little explanation.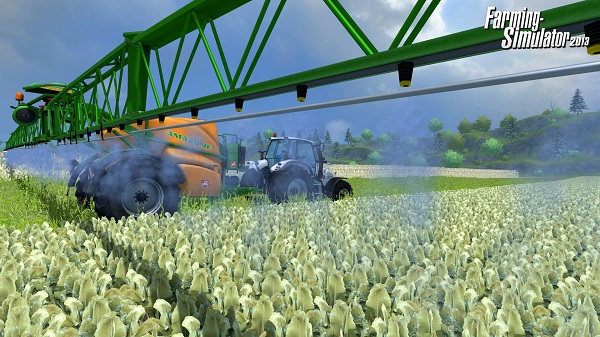 We were rewarded with cows back in Farming Simulator 2011, however thankfully GIANTS have included more animal husbandry than ever before bringing the game closer to the likes of Agricultural Simulator. On top of cows we are treated to sheep and chickens, allowing for the creation of new commodities; milk, wool and eggs, however much like the place-able constructs, you don't really get any satisfaction from these new items and player interaction is not required in the slightest, so you won't catch yourself shearing sheep or milking the cows, just picking up their handiwork and taking it into town.
Another new addition are the dynamic missions that have taken a page out of the book of Ski Region Simulator, unfortunately they aren't incredible inspired unless you wish to transport lost goods, or cut the grass of the golf course, you won't find yourself being asked to provide emergency crops for the pub, or help with the shortage of grain at the mill, which leaves the missions to again feel a bit tacked on. However if you did want a purpose for purchasing the Krone Big M 500 at $350k then its 10m+ width might just scratch the grass cutting required of you.
In this year's Farming Simulator we are taken away from the almost quaint English island of the past few games to the small town of Hagenstedt that looks and feels like the Swiss Alps that we visited in Ski Region Simulator, right down to the cobble stone streets and architecture, there's definitely a lot more character to this to town, but long-time fans of the series may be a little sad to hear that the bottles are gone, and replaced with horseshoes! For those not in the know, there was a fabulous collection side-quest of picking up bottles littered around the town and recycling them, it was a cute idea.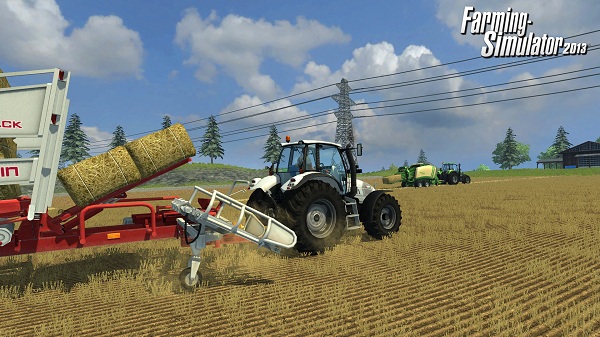 One of the reasons most gamers tend to stay away from simulators, is they have a habit of appearing a little soulless, however improvements have been made to Farming Simulator 2013 that brings pedestrians out to roam around the town alongside a few more car models than previous, but still not enough to make you truly feel like you are part of a town, similarly vehicle physics are still missing, so be careful not to hit another car or you'll find yourself careening into mid-air, which new players may find a bit disconcerting.
As games go Farming Simulator 2013 does what you want it to, however it does seem as though GIANTS have not invested much time into overhauling the graphics, leaving the game to look very similar to the last iteration, whilst clearly a there is a large amount of detail paid lovingly to the machinery, the environments appear to have been neglected somewhat making this series look a little worn around the edges, especially when compared to similar budget simulators out there.
Now a lot of simulators openly support modding for their titles, unfortunately as the genre stands at such a niche appeal it is often very difficult to find a mod, let alone one you trust you can download, however in Farming Simulator 2013 modding is far easier and even more approachable than ever before, with the in-game mod menu!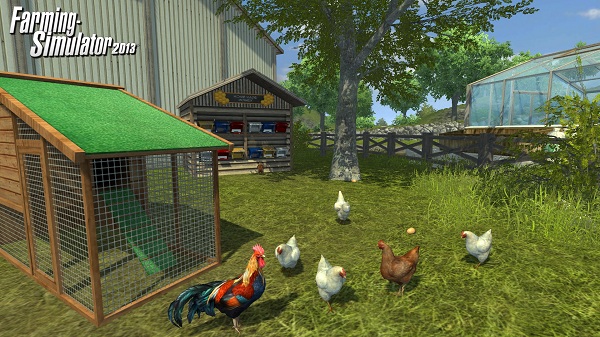 As the fourth title in the series Farming Simulator has definitely come a long way, but with a lack of investment on items like the beehives and greenhouses, and no real player interaction with the new animals, it does feel as though GIANTS have hit a brick wall, leaving dedicated fans only a few small improvements to purchase the next game with, we only hope that the next iteration of Farming Simulator will take the series to new heights, and not simply placate us with new 'stuff'.
If you are new to the series you should not be surprised to find that Farming Simulator 2013 is an astounding piece of work that can easily transform the curious gamer into a simulator fan, however die-hard fans of the series may be a little disappointed in an absence of brand-new fully fledged features past the impressive new roster of machinery.

Farming Simulator 2013 is available now on PC in all good stores and online distribution channels for the SRP of £19.99, and if you're holding out for a console release, then you should expect one early next year!